Senior Key Account Manager
Coty Eastern Europe
więcej
Senior Key Account Manager
Warszawa, mazowieckie

Kierownik

Pełny etat

2019-08-07

Ważna jeszcze 15 dni (do

2019-09-06)
Pracodawca ma prawo zakończyć rekrutację we wcześniejszym terminie.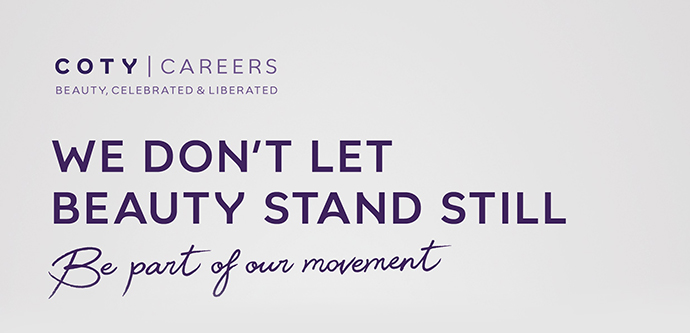 We're Coty, a global leader in beauty. We're World #1 in Fragrance, World #2 in Professional Hair Care and World #3 in Colour Cosmetics. Our iconic portfolio of more than 77 brands are sold in over 150 countries around the world. We believe in beauty with a purpose and brands that inspire, no matter where they are in the world.
Coty Professional Beauty is a very dynamic leader in Global Beauty. Brand Portfolio: Wella, Londa/Kadus, Nioxin, System Professional, Sebastian, OPI, GHD. Our Eastern Europe business is managed exclusively by full service distributors and has 17 markets: Poland, Romania, Baltics, Czech, Hungary, Slovakia, Israel, Cyprus, Malta, Ukraine, Moldova, Bulgaria, Croatia, Slovenia, Serbia, Kosov, Bosnia&Herz. .
SENIOR KEY ACCOUNT MANAGER
COTY, Warsaw

KEY RESPONSIBILITIES
Delivering top and bottom line for a cluster of top countries/clusters within the region: Poland, Israel, Balkans, Ukraine, Moldova, Bulgaria (acting as a 'GM" of the region)
HPO strategy ownership and G2M project responsibility for the whole EE cluster
Leading the talks with the distributors top management and multi-functional team for the cluster; leveraging both regional team (SNO/Trade Marketing/Education) and Global Distributor team to drive the Go To Market Strategy and deliver business targets NR, Volume, OI
Delivering business targets NR, Volume, OI.
S&OP process ownership for the cluster and accountability for delivering of the initiative objectives in the distributor/countries of responsibility
Building distributor sales organization capabilities while acting as a consultant for the distributor to ensure competiveness of the distributor organization.
WHAT YOU WILL BRING
Leadership and organizational Development (ensuring effective delivery of category, customer and organization strategies)
Selling and relationship management (ability to create a multi-level relationship with the distributor and senior management at Coty; strong presentation, problem solving and communication skills)
Strategy alignment (ability to develop JBP and action plans with the distributor and category teams, providing required strategies, financial deliverables and capabilities; strong strategic thinking skills)
Category planning and salon execution (capability development, innovation and consultancy)
Selling Joint Value (understanding of the markets, local customers, channel and industry)
Entrepreneurial (planning, strategic thinking, ownership, calculated decision making ) *This role will require extensive travel (approximately 40%)
WHAT WE OFFER
Opportunity to gain experience on regional level (EE cluster)
Working with much loved professional hair care brands (#2 in the world)
Friendly and supportive work environment with team passionate about their job
Benefits such as: private medical care, private health insurance, sport card, discounts on Coty products, company car, extra day of holiday for birthday and more!
ABOUT US
Coty's purpose is to celebrate and liberate the diversity of our consumers' beauty. Aligned to this is our mission – to strive over time to become the global industry leader by being the clear challenger in beauty, delighting consumers and creating long term shareholder value.
We are one of the world's largest beauty companies with approximately $9 billion in revenue, and our strong entrepreneurial heritage has created an iconic portfolio of leading beauty brands.
As the global leader in fragrance, a strong number two in professional salon hair color & styling, and number three in color cosmetics, we operate across three divisions:
Coty Consumer Beauty: focused on color cosmetics, retail hair coloring and styling products, body care and mass fragrances sold primarily in the mass retail channels with brands such as COVERGIRL, Max Factor and Rimmel

Coty Luxury: focused on prestige fragrances and skincare with brands such as Calvin Klein, Marc Jacobs, Hugo Boss, Gucci and philosophy
Coty Professional Beauty: focused on servicing salon owners and professionals in both hair and nail with brands such as Wella Professionals, Sebastian Professional, OPI and ghd
Coty is a truly global player with over 20,000 employees, operations in more than 40 countries in Asia, Latin America, Australia, Middle East and Africa, as well as Europe and North America and products sold in over 130 countries and territories. Our headquarters are in London, New York, Geneva and Paris.
Want to know more?
For additional information about Coty Inc., please visit www.coty.com
At Coty, we embrace Diversity. We are committed to equal employment opportunity regardless of race, color, ancestry, religion, gender, national origin, sexual orientation, age, citizenship, marital status, disability.
Wyrażam zgodę na przetwarzanie przez ogłoszeniodawcę moich danych osobowych, zawartych w mojej ofercie pracy, dla potrzeb niezbędnych do realizacji procesu rekrutacji zgodnie z ustawą z dnia 29 sierpnia 1997 r. o ochronie danych osobowych (t.j. Dz. U. z 2016 r., poz. 922). Jednocześnie wyrażam zgodę na przetwarzanie przez ogłoszeniodawcę moich danych osobowych na potrzeby przyszłych rekrutacji.