Senior OtC Specialist (Collection&Accounting) - 2nd shift
Getinge Shared Services sp. z o.o.
więcej
Senior OtC Specialist (Collection&Accounting) - 2nd shift
Kraków, małopolskie

Specjalista

18.06.2019
Pracodawca ma prawo zakończyć rekrutację we wcześniejszym terminie.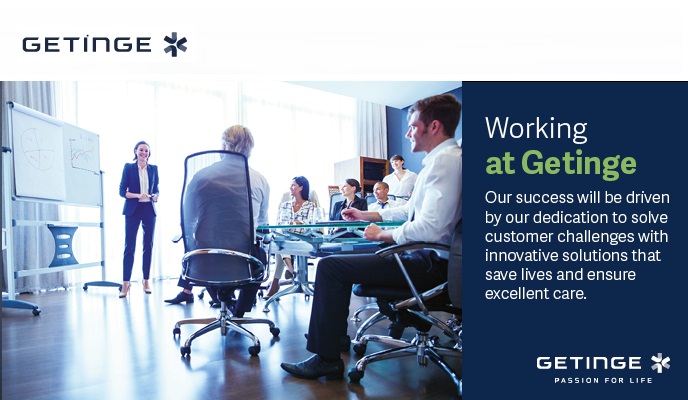 To newly established US & Canada Department we are looking for candidates willing to support further development of this department via taking part in transition process as well as helping to implement taken over processes in the receiving team.
Main objective of this position will be to process assigned collection tasks through regular contact with customer according to defined process to high quality standards and within deadlines.
This position will grow with time, as will the whole department – after transition period, the focus will shift to making the processes as efficient and simple as possible, to which all employees can greatly contribute.
If you are interested in helping to build a new department within an existing SSC we invite you to read on!
Senior OtC Specialist (Collection&Accounting) 2nd shift
Miejsce pracy: Kraków

Main responsibilities:
Meets deadlines and demonstrates high quality when processing collection process: regular contact with portfolio of given customers (mostly via call, e-mail as well), negotiating payments, identifying disputes, payment promises, payment applications, account reconciliations, etc.
Handling more difficult collection cases and supports other team members in solving disputes.
Achieves monthly targets for overdue level and overview overdue targets execution for junior specialists and specialists
Partners effectively with stakeholders to achieve common goals; engages team members and leverages team knowledge.
Actively contributes with daily activities, pre-close and month end closing processes.
Prepares and reviews daily and ad-hoc reporting within agreed SLAs.
Designs, develops and approves process documentation based on knowledge transfer and gained experience.
Participates and may lead local and global processes improvement initiatives. Coaches junior analysts and analysts on identifying and managing process improvement projects.
Complies and ensures the operation is aligned with company's policies and procedures.
Identifies issues or risks and proactively works to resolve, involving management on a needed basis.
Prepare or update existing process descriptions/process maps (as a part of transition process).
Requirements:
Advanced knowledge of Microsoft Office, (especially excel) and SAP and collection module.
Fluent English (written and oral) required.
3-5 years of relevant experience in a Shared Services in Collection
Department at least as Collection Specialist .
Very good communication skills especially via calls, ability to maintain professional business contacts with customers.
Flexibility to travel and take part in the transition process (knowledge transfer from other country outside Europe).
Flexible and ready to take over if necessary during transition and stabilization period other processes as well.
Strong interpersonal and communication skills and the ability to maintain professional business contacts.
Very good Customer Service skills and strong customer driven focus.
Analytical mindset and accuracy.
Ability to work under pressure and toward deadlines.
Pro-activeness, improvements driver, problem solver.
Working time according to East Cost US time (14:00-22:00).
We offer:
Very attractive working conditions.
Interesting and stable job in multinational company.
Friendly work environment.
Open and friendly organizational culture.
Opportunity for interesting development path within accounting.
Participation in projects.
Additional benefit package for working second shift.
Professional trainings.
Getinge Shared Services sp. Z o.o.
Ul. Klimeckiego 1
31-705 Kraków


Uprzejmie prosimy o dołączenie do CV poniższego oświadczenia:
"Wyrażam zgodę na przetwarzanie moich danych osobowych podanych w CV / CV i liście motywacyjnym dla potrzeb obecnego, jak i przyszłych procesów rekrutacji, prowadzonych przez Getinge Polska sp. z o.o. z siedzibą w Warszawie."
Jednocześnie informujemy, że:
Administratorem danych osobowych jest Getinge Polska sp. z o.o. z siedzibą w Warszawie, ul. Osmańska 14, 02-823 Warszawa tel. 22 882 06 44, mail:
Podstawą przetwarzania danych jest Pana/i zgoda (art. 6 ust. 1 lit. a RODO - ROZPORZĄDZENIA PARLAMENTU EUROPEJSKIEGO I RADY (UE) 2016/679 z dnia 27 kwietnia 2016 r. w sprawie ochrony osób fizycznych w związku z przetwarzaniem danych osobowych i w sprawie swobodnego przepływu takich danych oraz uchylenia dyrektywy 95/46/WE (ogólne rozporządzenie o ochronie danych).
Celem przetwarzania danych jest przeprowadzenie rekrutacji na stanowisko ……………………………… / a także przeprowadzenie przyszłych rekrutacji.
Dane osobowe będą przetwarzane przez czas niezbędny do wykonania czynności, o których mowa w pkt. 3 powyżej oraz 18 miesięcy po zakończeniu danej rekrutacji. Nie uchybia to sytuacjom, gdy obowiązujące przepisy prawa nakładają na Administratora danych obowiązek lub uprawnienie do przetwarzania danych osobowych przez okres dłuższy.
Nie jest Pan/i zobowiązany/-a do podania niniejszych danych. Podanie niniejszych danych nie jest wymogiem ustawowym ani umownym. Niepodanie niniejszych danych skutkuje niemożnością wzięcia udziału w rekrutacji.
Ma Pan/i prawo:
a) cofnąć zgodę w dowolnym momencie, lecz nie wpływa to na zgodność z prawem przetwarzania danych osobowych przed cofnięciem tej zgody;
b) wnieść sprzeciw wobec przetwarzania swoich danych osobowych;
c) żądania dostępu do swoich danych osobowych, sprostowania ich oraz ich usunięcia, a także prawo żądania ograniczenia przetwarzania swoich danych osobowych i ich przenoszenia.
d) do wniesienia skargi do organu nadzorczego.