Senior Software Development Engineer
Groupon
więcej
Senior Software Development Engineer
Warszawa, mazowieckie

Specjalista

19.08.2019

Ważna jeszcze 1 dzień (do

18.09.2019)
Pracodawca ma prawo zakończyć rekrutację we wcześniejszym terminie.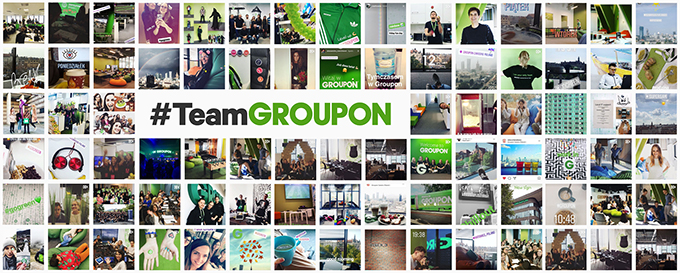 An e-commerce company, Groupon inspires its users to visit interesting places close-by, travel and discover new activities, while offering a wide range of products as well. It also provides its partners with tools and support, which help them to develop and manage their businesses.
In less than eight years of operating in Poland, Groupon grew from a company that hired less than ten people and fit in a small room into a leader of local trade, and is currently a place where more than 1200 employees have the opportunity to develop their skills and competences in a friendly atmosphere. With offices in Warsaw and Katowice, our global Shared Service Center entity is constantly growing supporting Groupon business within all sorts of operations. We believe that great companies are made by great people.
Senior Software Development Engineer
Location Warszawa

Are you a passionate and energetic technology enthusiast eager to work at a rapid pace with the flexibility to work across our suite of technologies? Are you are a problem solver; someone who enjoys debugging code, resolving issues, and creating solutions for common problems? Do you get a little obsessed with the details?
Groupon's mission is to become the daily habit in local commerce and fulfill our purpose of building strong communities through thriving small businesses by connecting people to a vibrant, global marketplace for local services, experiences and goods. In the process, we're positively impacting the lives of millions of customers and merchants globally. Even with thousands of employees spread across multiple continents, we still maintain a culture that inspires innovation, rewards risk-taking and celebrates success. If you want to take more ownership of your career, then you're ready to be part of Groupon.
We're looking for great technology developers to work on the Groupon platform to improve performance and make our customers' and small business' lives easier and happier. We work in small, self-managing, collaborative and agile teams to implement stuff quickly.
We're a "best of both worlds" kind of company. We're big enough to have resources and scale, but small enough that a single person has a surprising amount of autonomy and can make a meaningful impact. We're curious, fun, a little intense, and kind of obsessed with helping local businesses thrive. Does that sound like a compelling place to work?
Our development ecosystem:
Languages: Java, Ruby on Rails
Node/Express JS
MySQL/PostgreSQL
Splunk
REST/JSON
Deployment to our own data centers
GitHub
JIRA
You'll spend time on the following:
You will lead the design and implementation of systems within the enterprise
You will focus on solutions that come from better architecture, not just better code
You will drive initiatives across engineering teams with a focus on increasing site performance and stability
You will work closely with other engineers within your group and across the product and engineering organization to identify problems and build effective technical solutions
Mentor junior team members and encourage your peers to do the best possible work
We're excited about you if you have:
At least 8+ years experience in software development, experience building developer-facing tools will be a plus
Excellent coding skills in one or more languages: Java, C#, Scala, C++, Python or Ruby
Experience with container technologies like Kubernetes or Docker desired
Development experience with service-oriented architectures/microservices
Excellent troubleshooting and problem-solving skills
Ability to work collaboratively through an agile development process that promotes constant team communication
We value engineers who are:
Customer-focused: We believe that doing what's right for the customer is ultimately what will drive our business forward.
Obsessed with Quality: Your production code just works & scales linearly
Team players. You believe that more can be achier desire. You know when it's appropriate to take shortcuts that don't sacrifice quality or maintainability.
Owners: Engineers at Groupon know how to positively impact the business
BENEFITS
Attractive Groupon discounts
Training & development programmes