Service Integration SACM Consultant
Capgemini Polska
więcej
Service Integration SACM Consultant
Katowice, śląskie

pokaż mapę

Specjalista

25.06.2018
Pracodawca ma prawo zakończyć rekrutację we wcześniejszym terminie.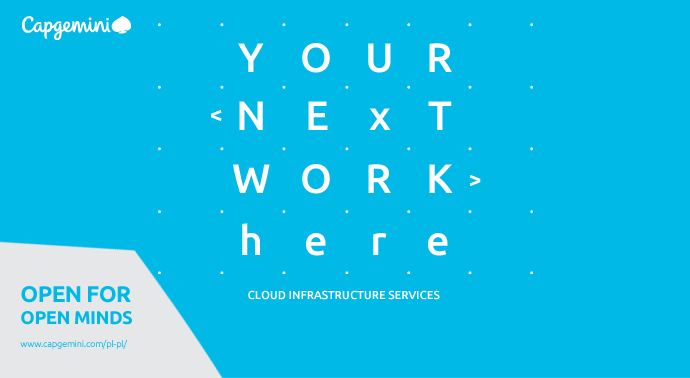 Capgemini is one of the world's foremost providers of consulting, technology and outsourcing services.
Cloud Infrastructure Services is one of the biggest outsourcing service providers in Poland. Since the establishment of our first service center in Krakow in 2004, it has achieved great success and grown rapidly. In 2006, we opened a second center in Katowice and in 2012 a third center in Opole. Today, our team of 2,000 professionals delivers IT outsourcing services to 40 clients in 20 languages.
Service Integration SACM Consultant
Miejsce pracy: Katowice

Position purpose

Service Management Consultant is a role in Service Integration capability in Project and Consulting service line within Capgemini Cloud Infrastructure Services Eastern Europe.
Service Management Consultant in collaboration with clients assists them in the implementation of IT Service Management practices based on Capgemini and industry standards. The role requires thorough business awareness and understanding of implications and accountabilities in wider context within the customer organization.
Job description

As Service Integration SACM Consultant you will have an opportunity to work on the SACM deployments in multi-supplier sourcing model in complex IT ecosystems. You will also take part in service audits as part of the bid and transition process as well as in IT service and governance reviews, trend analysis, SACM health checks and Service Improvement Programs. You will be assisting with ITIL service strategy advice and service design solutions in SACM area to address service issues to both prospects and current customers during sales process (bids).
Main accountabilities

1. General accountabilities of the role:
Provides service management expertise including training, mentoring & staff augmentation
Builds customer relationships by delivering above client expectations on assigned deliverables, proactively identifying add on work and assisting in identifying cross sales leads
2. Sales support activities for the Service Integration and Management:
Support sales team during due diligence phase by providing expertise in SACM area
Leverage the expertise of SACM processes to identify critical success factors and appropriate performance measurements to be incorporated in design of SACM process model
Support other team members on specific work or process streams and understand the role of SACM process, its interfaces, SLAs and contractual obligations when providing advice and solution input including costing of service delivery model
Proactively identify business opportunities for both Service Integration capability and Project and Consulting service line within current and perspective customer environments
3. Service Integration and Management SACM implementations:
Carry out the discovery process and leverage capabilities of automatic discovery tools
Conduct maturity assessment of SACM processes in the organization and the level of business - IT alignment
Translate customer's business requirements into IT delivery, taking into consideration the technology constraints and complexity of IT ecosystem
Ensure that the interfaces to other ITIL processes are identified and incorporated in the process model
Ensure that any related services provided by multiple service towers have been integrated in the Service Integration SACM process model
Produce the SACM process documentation (policies, process, procedures) aligned with ITIL principles and contractual requirements
Collaborate with client to produce common data models based on the business requirements and architecture of IT platforms that support business services
Oversee deployment of CMDB/AMDB in ITSM toolsets (ServiceNow, BMC Remedy) and coordinate activities of tool developers
Ensure that the work instructions and supporting materials are produced to the required standard
Design test strategy and oversee the tool testing and UAT activities
Provide 'Early Life Support' - delivering Service Integration SACM services and handing over support to the future delivery teams
4. Service Management Remediation projects:
Assist Delivery teams to rectify issues in SACM area and improve service delivered to the customers
Perform/ help in SACM Health check assessments and Service Improvement Programme
Candidate's profile
2+ years of hands on experience in IT Service Management design, transition or operations
Understanding of IT Service Management concepts underpinned by formal ITIL certification
ITIL V3 Foundation Certificate - as a must
Experience of designing, developing and/ or implementing ITIL aligned processes
Presentation skills related both to materials preparation and content delivery to audience of all seniority levels in the organization
Facilitation skills to lead requirements gathering workshops and provide training to clients and internal team members
Interpersonal skills, to help negotiate priorities and to resolve conflicts among project stakeholders; such as clients and internal team members
Strong verbal and writing skills in order to effectively communicate information to clients and internal team members
Expert organizational and time management skills with the ability to prioritise, self-starter able to work independently with minimum of supervision
Understanding of how business processes are supported by technology
Awareness of a number of service management tools such as Service Now and BMC's IT Service Management (ITSM)
Awareness of Agile methodologies
Requirements

SACM specific skills:
Strong analytical skills and ability to evaluate the information gathered from multiple sources, reconcile conflicts, decompose high-level information into details
Experience of working to forecasting/ estimating
Expert in IT Asset Management Lifecycle processes (including hardware and software)
Expert in Configuration Management process
Experienced in the technologies that support SACM including auto-discovery tooling
Experience in using configuration management databases, understanding of data model concept and CMDB architecture
Experience with interpreting data models and designing reports
Advanced MS Excel and basic MS Access
Experienced in the use of KPIs to track trends and identify problems before they occur
Understanding of Service Asset Financials
An advantage would be:
ITIL Intermediate or ITIL Expert certificate
Related certifications: COBIT, PMP, Prince2, Agile, etc.
Regulatory Compliance awareness including ISO20000, Sarbanes Oxley (SOX) and Food and Drug Administration (FDA) compliance (desirable)
Mobility Requirements:
Ability to Travel: 25%+ travelling to EU (weekends at home), also team members can join projects in USA/ Canada/ regions outside UE
What we offer
Possibility of full time remote work.
You will work in multinational, stable company for c.a. 100 Blue Chip Clients- known, global brands, supported by 6000 professionals in 30 languages.
You will gain space to fulfill your ambitions and develop your career, opportunity to take part in transition projects. We operate according to Lean and Kaizen.
You will choose your career path (experts or managers) – you will work among professionals (over 900). We will support you to gain knowledge (20 000 online trainings and in class) and get certified (e.g. ITIL, Vmware, Citrix, Oracle Database). You will have the opportunity to take part in coaching programs and develop your knowledge in experts communities.
You will work in line with high, international work standards and you will have an opportunity to engage in CSR initiatives.
You will be appreciated for your results and professionalism – based on clear rules of promotion. Our company applies a wide choice of perks (free private medical care for you and your family, additional life insurance). We help to keep right proportions between your work and private life (Business Parent Program).
As a disabled person you will get professional support. We are open to provide assistive technologies for people with diverse disabilities. We care about inclusion and equal rights approach. We conduct disability awareness trainings. Join our Win with Capgemini Program for people with disabilities.

Please be advised that Capgemini Poland Sp. z o.o. located in Warsaw, Al. Jerozolimskie 96, is the controller of personal data provided by you in the recruitment applications. Your personal data will be processed in accordance with the Personal Data Protection Act of 29 August 1997 (Journal of Laws2002, No. 101, item. 926 with further amendments) for the purpose of existing and future recruitment processes. Please be advised that in scope of recruitment process your personal data will be processed by the controller and sub-processors located outside European Economic Area including India's entity. Data submission is voluntary. Every person has the right to access their data in order to correct it or delete it"
Please include following statement in your application:
"I hereby authorize Capgemini Poland Sp. z o.o. to process my personal data included in my job application for existing and future recruitment processes (in accordance with the Personal Data Protection August 1997, Journal of Laws 2002, No. 101, item. 926 with further amendments).! also authorize Capgemini Poland Sp z o.o. to sub-process my personal data outside European Economic Area including India's entity, which may also include Capgemini's clients within and outside of EEA.
We protea your privacy. We kindly inform you that we contact only chosen candidates.The recruitment process is conduaed in accordance with the principles of equal treatment in employment. Labor Code, Chapter lla. Art. 183a-183e. Employment Agencies Register - 9595.