Service Integration Senior Management Consultant
Capgemini Polska
więcej
Service Integration Senior Management Consultant
Kraków, małopolskie

pokaż mapę

Specjalista

18.05.2018
Pracodawca ma prawo zakończyć rekrutację we wcześniejszym terminie.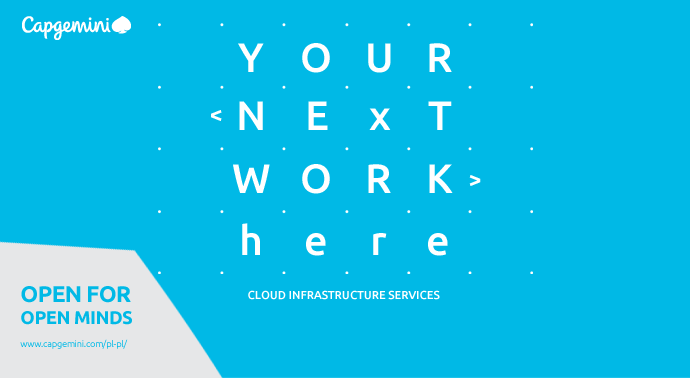 Capgemini is one of the world's foremost providers of consulting, technology and outsourcing services.
Cloud Infrastructure Services is one of the biggest outsourcing service providers in Poland. Since the establishment of our first service center in Krakow in 2004, it has achieved great success and grown rapidly. In 2006, we opened a second center in Katowice and in 2012 a third center in Opole. Today, our team of 2,000 professionals delivers IT outsourcing services to 40 clients in 20 languages
Service Integration (Senior) Management Consultant
Location: Kraków
Pracuj/Service/Integration/SR/Management/Consultant/KRK

Position purpose

(Senior) Service Management Consultant is a role in Service Integration and Management competency centre within Capgemini Cloud Infrastructure Services Eastern Europe.
Service Management Consultant in collaboration with clients assists them in the implementation of IT Service Management practices based on Capgemini and industry standards.
The role requires thorough business awareness and understanding of implications and accountabilities in wider context within the customer organization.
Job description

As Service Management Consultant you will be member of a team, assisting the lead or working independently designing, developing and implementing IT processes, conducting research and performing analysis. You will focus on the ITIL Service Management lifecycle stages and a number of its processes within an outsourcing bid or an implementation. You will be consulted on various aspects of the delivery.
Key responsibilities

1. General accountabilities of the role
Provides service management expertise including training, mentoring & staff augmentation

Builds customer relationships by delivering above client expectations on assigned deliverables, proactively identifying add on work and assisting in identifying cross sales leads
2. Service Management Transition and Transformation projects
Build and transition Service Management and Service Integration solutions

Provide 'Early Life Support' - delivering Service Management and Service Integration services and handing over support to the future delivery teams
3. Service Management Implementations
Carries on with the discovery process

Supervises other team members on specific work or process streams including ensuring ITIL aligned processes, procedures and work instructions are produced to required standard and are trained upon

Ensures that any related Service Integration for services by multiple service towers and providers has been completed

Supports and delivers to the standard transition project model

Oversees specific work or process streams including ensuring ITIL aligned processes, procedures and work instructions are produced to required standard and are trained upon
4. Service Management Remediation projects
Assisting Delivery teams to rectify issues and improve service delivered to the customers.

Perform/ help with CMMI or Healthcheck assessments and Service Improvement Programmes (SIP's)
5. Sales support activities for the Service Integration and Management
Develop solutions and responses to RfX documents

Supporting other team members on specific work or process streams and understand the role of service management, ITIL processes, SLA management and contractual obligations when providing advice and solution input,

Assisting with the design and costing of service delivery model
Candidate's profile

Minimum qualifications:
2+ years of hands on experience in IT Service Management design, transition or operations

Understanding of IT Service Management concepts underpinned by formal ITIL certification ITIL V3 Foundation Certificate - as a must

Presentation skills related both to materials preparation and content delivery to audience of all seniority levels in the organization

Facilitation skills to assist gathering requirements in workshops and provide training to clients and internal team members

Expert organizational and time management skills with the ability to prioritise, self-starter able to work independently with minimum of supervision

Interpersonal skills, to help negotiate priorities and to resolve conflicts among project stakeholders; such as clients and internal team members

Strong analytical skills are needed to critically evaluate the information gathered from multiple sources, reconcile conflicts, decompose high-level information into details

Familiarity of Service Management Tools (such as BMC Remedy, ServiceNow)

Use of industry recognized technologies in order to facilitate work environment

Excellent command of English language

Demonstrate experience in communicating across all levels of an organization, at the most senior levels
Mobility Requirements
Ability to Travel: 10%- 25% travelling to EU (weekends at home), also team members can join projects in USA/ Canada/ regions outside UE
An advantage would be:
ITIL Expert certificate

Related certifications: COBIT, PMP, Prince2, etc.

Experience of designing, developing and/or implementing ITIL aligned processes

Regulatory Compliance awareness including ISO20000, Sarbanes Oxley (SOX) and Food and Drug Administration (FDA) compliance (desirable)
What do we offer?
Possibility of full time remote work
You will work in multinational, stable company for c.a. 100 Blue Chip Clients- known, global brands, supported by 6000 professionals in 30 languages
You will gain space to fulfill your ambitions and develop your career, opportunity to take part in transition projects. We operate according to Lean and Kaizen
You will choose your career path (experts or managers) – you will work among professionals (over 900). We will support you to gain knowledge (20 000 online trainings and in class) and get certified (e.g. ITIL, Vmware, Citrix, Oracle Database). You will have the opportunity to take part in coaching programs and develop your knowledge in experts communities.
You will work in line with high, international work standards and you will have an opportunity to engage in CSR initiatives.
You will be appreciated for your results and professionalism – based on clear rules of promotion. Our company applies a wide choice of perks(free private medical care for you and your family, additional life insurance). We help to keep right proportions between your work and private life (Business Parent Program)
As a disabled person you will get professional support. We are open to provide assistive technologies for people with diverse disabilities. We care about inclusion and equal rights approach. We conduct disability awareness trainings. Join our Win with Capgemini Program for people with disabilities

Informujemy, że administratorem danych osobowych podanych w zgłoszeniach rekrutacyjnych jest Capgemini Polska Sp. z o.o. z siedzibą w Warszawie przy al. Jerozolimskich 96. Pana/Pani dane osobowe będą przetwarzane zgodnie z ustawą z dnia 29 sierpnia 1997r. o ochronie danych osobowych (t.j. Dz. U. 2002, Nr 101, poz. 926 ze zm.) na potrzeby realizacji procesów rekrutacji prowadzonych obecnie i w przyszłości. Informujemy, że w ramach procesu rekrutacji dane osobowe będą również przetwarzane poza Europejskim Obszarem Gospodarczym, w tym jednostki Capgemini w Indiach. Podanie danych jest dobrowolne. Każda osoba ma prawo dostępu do treści swoich danych ich poprawiania.
Prosimy o dopisanie następującej klauzuli:
"Wyrażam zgodę na przetwarzanie przez Capgemini Polska Sp. z o.o. danych osobowych zawartych w mojej ofercie pracy na potrzeby procesów rekrutacji prowadzonych obecnie i w przyszłości zgodnie z przepisami ustawy z dnia 29 sierpnia 1997r. o ochronie danych osobowych (Dz.U.2016.922 z późn. zm.). Zezwalam również Capgemini Polska Sp z o.o. na przetwarzanie moich danych osobowych poza Europejskim Obszarem Gospodarczym, w tym przez jednostki w Indiach oraz klientów Capgemini obejmujących wewnętrzne oraz zewnętrzne obszary EEA."
Wszystkim zainteresowanym zapewniamy dyskrecję. Zastrzegamy sobie prawo do odpowiedzi tylko na wybrane aplikacje. Proces rekrutacji prowadzony jest zgodnie z zasadami równego traktowania w zatrudnieniu, Kodeks Pracy, Rozdział IIa, art. 183a – 183e.