Shop Management Assistant E-Food with German
zooplus Polska Sp. z o.o.
więcej
Shop Management Assistant E-Food with German
Kraków, małopolskie

pokaż mapę

Asystent

09.10.2018

Ważna jeszcze 23 dni (do

08.11.2018)
Pracodawca ma prawo zakończyć rekrutację we wcześniejszym terminie.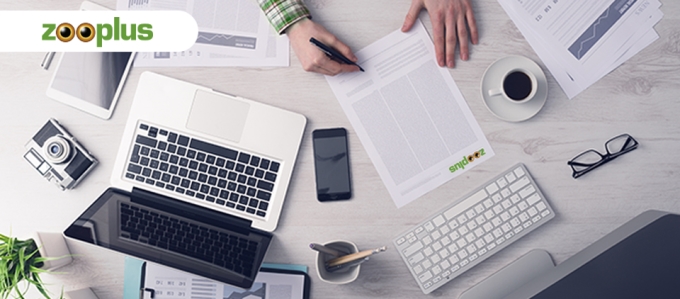 Number 1 in Europe!
zooplus AG was founded in Munich in 1999 and today it is Europe's leading online retailer of pet supplies. The sales reached EUR 1,111 million in the 2017 financial year with 22% annual sales growth. The company's business model has been launched successfully in 30 European countries. That is all possible due to highly autonomous teams, flat organization structure and constant strive for using cutting-edge technologies. Based on the continued vigorous growth anticipated in the European e-commerce market, zooplus expects its dynamic performance to continue.
Our employees are the key to our success!
The zooplus team currently consists over 650 interdisciplinary specialist and managers from more than 30 countries who work at 13 international sites in the Sales & Marketing, IT, Operations and Administration departments. So we can remain successful against our competitors in the future too, we are looking for individuals who can develop our business and help create a positive corporate culture by not only demonstrating versatile professional and methodological expertise, but also by showing a passion for performance, analysis and a solution-based approach. This includes dealing with rapid changes, intensive networking and an in-depth understanding of technology, the digital market and the business model's value-added chain.
Shop Management Assistant E-Food with German
Workplace: Kraków

Description
Support our Shop Manager Germany and Austria in all operational and administrative matters, especially in creation of online campaigns, optimizing the online shop and driving sales, preparing analyses and reports
Ongoing maintenance and optimization of existing product pricing and product promotions
Independent management and briefing of internal and external service providers (photographers, graphic department, etc. )
Close cooperation with the departments of Category Management and Online Marketing
Development of frameworks and processes internally and to external partners and supplier
Requirements
Completed commercial vocational training or studies ideally in the fields of digital media, German studies or communication science
At least 1-2 years of professional experience in content management or similar activities
Experience in the editorial environment is desirable, especially in the preparation of information, structuring and classification
Excellent verbal and written German and English language skills
Good knowledge in Microsoft Office programs
Basic knowledge of Photoshop and understanding of visual marketing (image quality, page layout, adherence to CI)
Strong affinity to the Internet and ecommerce as well as interest in grocery products
What we are offering you
Become a part of our success story and seize the opportunity to take on a real challenge in a dynamically growing company where there is huge scope for development and short decision-making processes. We are offering you a versatile, international-facing role in our motivated team with colleagues from all over Europe.
4 extra days off
Training budget
Language courses
Multisport
Medical care
Discount in zooplus shop
Flexible working hours
Prosimy o upewnienie się, że przesyłany przez Państwa dokument aplikacyjny zawiera tylko takie informacje, które mogą być istotne w kontekście zatrudnienia.
Prosimy o dodanie następującej klauzuli:
Potwierdzam zapoznanie się z informacją o przetwarzaniu danych osobowych kandydatów do pracy wskazaną w ogłoszeniu o pracę dotyczące stanowiska, na które aplikuję. Wyrażam zgodę na przetwarzanie moich danych osobowych, zawartych w przesłanych przeze mnie dokumencie aplikacyjnym, przez zooplus Polska sp. z o.o. z siedzibą w Krakowie (30-002), Ul. Prądnicka 6a, dla potrzeb niezbędnych do realizacji procesu rekrutacji. Mam prawo wycofać udzieloną zgodę w dowolnym momencie. Cofnięcie zgody nie wpłynie na zgodność z prawem przetwarzania, którego dokonano na podstawie takiej zgody przed jej cofnięciem.
Informacja o przetwarzaniu danych osobowych kandydatów do pracy jest dostępna:
Obowiązek informacyjny
Administratorem danych jest zooplus Polska Sp. z o. o. z siedzibą w Krakowie przy ul. Prądnickiej 20a, 30-002, NIP: 6772370361, REGON: 122628617;
Administrator danych w celu należytej ochrony danych osobowych wyznaczył Inspektora Ochrony Danych, z którym można się skontaktować pod adresem e-mail: [email protected];
Dane osobowe będą przetwarzane wyłącznie w celu realizacji procesu rekrutacyjnego. Podstawą prawną przetwarzania danych jest uprawnienia do żądania danych niezbędnych do podjęcia działań przed zawarciem umowy w zakresie wskazanym w art. 22 1 kodeksu pracy, a w pozostałym zakresie zgoda na przetwarzanie danych osobowych, która w każdym czasie może być odwołana;
Odbiorcami danych osobowych Pracownika będą: zooplus Polska Sp. z o.o. i zooplus AG
Dane osobowe będą przechowywane przez okres 6 miesięcy od zakończenia procesu rekrutacyjnego;
Ma Pan/Pani prawo do:

dostępu do treści swoich danych oraz ich sprostowania, usunięcia lub ograniczenia przetwarzania,
wniesienia sprzeciwu wobec przetwarzania,
przenoszenia danych,
cofnięcia zgody na przetwarzanie danych w dowolnym momencie,
wniesienia skargi do Urzędu Ochrony Danych Osobowych, gdy uzna Pani/Pan, iż przetwarzanie danych osobowych Pani/Pana dotyczących narusza przepisy ogólnego rozporządzenia o ochronie danych osobowych z dnia 27 kwietnia 2016 r. (Dz.U. Dz.U.UE.L.2016.119.1).

Podanie danych osobowych jest dobrowolne, jednocześnie niepodanie informacji wskazanych w art. 221 § 1 Kodeksu pracy spowoduje, iż otrzymane dokumenty aplikacyjne kandydatów do pracy nie będą przez Administratora danych rozpatrywane.
Pełną informację odnośnie przetwarzania Twoich danych osobowych znajdziesz tutaj.