SRM Consultant
Capgemini Polska
więcej
SRM Consultant
Warszawa, mazowieckie

Specjalista

2018-03-05
Pracodawca ma prawo zakończyć rekrutację we wcześniejszym terminie.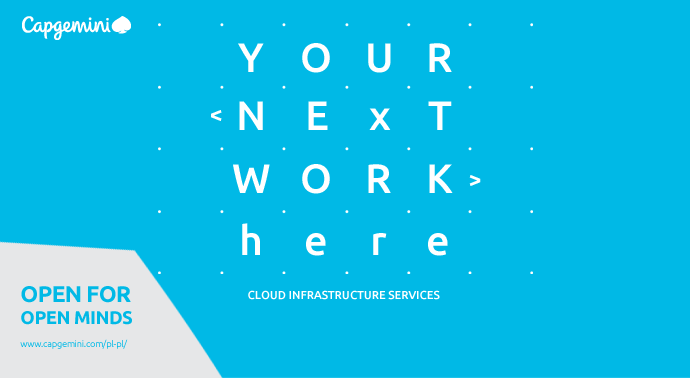 Capgemini is one of the world's foremost providers of consulting, technology and outsourcing services.
Cloud Infrastructure Services is one of the biggest outsourcing service providers in Poland. Since the establishment of our first service center in Krakow in 2004, it has achieved great success and grown rapidly. In 2006, we opened a second center in Katowice and in 2012 a third center in Opole. Today, our team of 2,000 professionals delivers IT outsourcing services to 40 clients in 20 languages.
SRM Consultant
Location: Warszawa
Pracuj/SRM/Consultant/WAW

Position purpose


SRM Consultant in collaboration with clients, service architects and developers plays a key role in the implementation of Service Management practices based on Capgemini and industry standards – with strong focus on Service Request Management and Fulfillment, plus Catalogue and/or Portal.

The role requires profound business acumen and understanding as well as thorough understanding of business process modelling with use of agile methodology.
Job description


You will use your Business Processes experience in the area of Procurement, Finance, Facility, Human Resources for designing, developing and implementing processes, conducting research and performing analysis required to build and automate SRM and Service Catalogue processes for the Clients. Your experience will be used to implement solutions which are most suitable for Client's maturity, organization size and generic User Experience needs. You will be capturing business requirements in a form of agile stories, as well as testing configured functionalities end to end as soon as these have been developed.

Working with ServiceNow Developers and Client experts you may design the intranet user experience, Self-Service portal and Catalogue workflows along with supporting documents and training materials.
Candidate's profile
Expert organizational and time management skills with the ability to prioritise, self-starter able to work independently with minimum of supervision
Interpersonal skills, to help negotiate priorities and to resolve conflicts among project stakeholders; such as clients and internal team members
Strong analytical skills are needed to critically evaluate the information gathered from multiple sources, reconcile conflicts
Facilitation skills to assist gathering requirements in workshops and provide training to clients and internal team members
Requirements


Essential:
2+ years of hands on experience in Business process design and or transitions
Service Catalogue/Portal relevant experience
Understanding Scrum Methodology - as a must
Decompose high-level information into details
Use of industry recognized technologies in order to facilitate work environment
Excellent command of English language

Nice to have:
Any experience in with ITSM tool or Service Request Management and Fulfillment, Catalogue

Mobility Requirements:
Ability to travel: ~30% travelling to EU (weekends at home), also team members can join projects in USA/ Canada/ regions outside UE
What we offer
Possibility of full time remote work.
You will work in multinational, stable company for c.a. 100 Blue Chip Clients- known, global brands, supported by 6000 professionals in 30 languages.
You will gain space to fulfill your ambitions and develop your career, opportunity to take part in transition projects. We operate according to Lean and Kaizen.
You will choose your career path (experts or managers) – you will work among professionals (over 900). We will support you to gain knowledge (20 000 online trainings and in class) and get certified (e.g. ITIL, Vmware, Citrix, Oracle Database). You will have the opportunity to take part in coaching programs and develop your knowledge in experts communities.
You will work in line with high, international work standards and you will have an opportunity to engage in CSR initiatives.
You will be appreciated for your results and professionalism – based on clear rules of promotion. Our company applies a wide choice of perks (free private medical care for you and your family, additional life insurance). We help to keep right proportions between your work and private life (Business Parent Program).
As a disabled person you will get professional support. We are open to provide assistive technologies for people with diverse disabilities. We care about inclusion and equal rights approach. We conduct disability awareness trainings. Join our Win with Capgemini Program for people with disabilities.
Please be advised that Capgemini Poland Sp. z o.o. located in Warsaw, Al. Jerozolimskie 96, is the controller of personal data provided by you in the recruitment applications. Your personal data will be processed in accordance with the Personal Data Protection Act of 29 August 1997 (Journal of Laws2002, No. 101, item. 926 with further amendments) for the purpose of existing and future recruitment processes. Please be advised that in scope of recruitment process your personal data will be processed by the controller and sub-processors located outside European Economic Area including India's entity. Data submission is voluntary. Every person has the right to access their data in order to correct it or delete it"
Please include following statement in your application:
"I hereby authorize Capgemini Poland Sp. z o.o. to process my personal data included in my job application for existing and future recruitment processes (in accordance with the Personal Data Protection August 1997, Journal of Laws 2002, No. 101, item. 926 with further amendments).! also authorize Capgemini Poland Sp z o.o. to sub-process my personal data outside European Economic Area including India's entity, which may also include Capgemini's clients within and outside of EEA.
We protea your privacy. We kindly inform you that we contact only chosen candidates.The recruitment process is conduaed in accordance with the principles of equal treatment in employment. Labor Code, Chapter lla. Art. 183a-183e. Employment Agencies Register - 9595.