Team Assistant
ERGO Digital IT Gmbh Sp. z o.o. Oddział w Polsce
więcej
Team Assistant
Warszawa, mazowieckie

pokaż mapę

Asystent

07.05.2019
Pracodawca ma prawo zakończyć rekrutację we wcześniejszym terminie.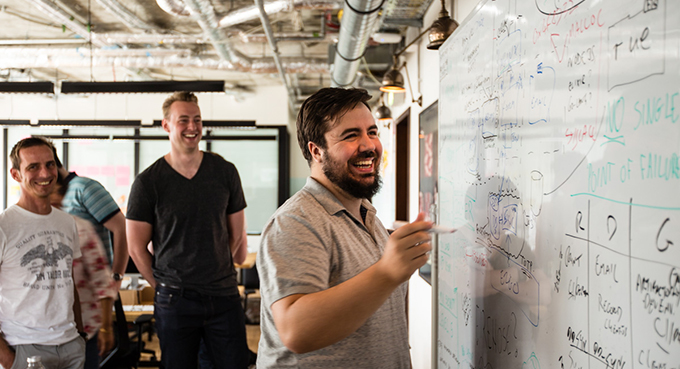 ERGO DIGITAL IT


Our company is the new digital delivery arm of one of the largest insurers in Germany, that has been built to drive innovation – both for digital solutions and technology. Our mission is to build an agile business that does amazing things using the latest technology.
Team Assistant
Miejsce pracy: Warszawa

ERGO Digital IT aims to hire an ambitious, highly motivated Team Assistant who will make sure the Management Team can focus on their job, by proactively offering support and taking care of daily business.
What you'll tell your friends you are doing
Saving the day and making a though job look easy
What you'll really be doing
As Management Assistant you will be located in Warsaw. You will be part of a professional and ambitious team, with a focus on business impact. By offering your support, proactively as well as reactively, you lighten the workload of the Management Team.
How you'll get the job done
You'll be responsible for:
Proactively organizing and maintaining the Leadership team's calendar and travel arrangements;
Providing broad pro-active administrative support (e.g. managing incoming communications - including inquiries for time, scheduling of meetings, events, etc.)
Assisting in the preparation of presentations and material; ensuring that material is complete and accurate;
Various administrative duties in support of the day-to-day operations of the Leadership team;
Providing personal assistance and support;
Performing additional duties as requested.
What we need from you for the role
You bring excellent time management and strong organizational skills, with the ability to keep on top of many moving parts in a fast paced environment;
You have the ability to multi-task across a range of work streams/projects with constantly shifting priorities;
With your positive attitude you have the ability to make things happen;
You also have excellent interpersonal and communication skills;
You are motivated, energetic and a positive team player;
You have the ability to exercise considerable discretion and independent judgment and handle confidential material discreetly.
And then there's this
To make sure you can be successful in your job, you will need to have
A work permit / visa to work in Poland;
The ability to thrive in a fast-paced environment;
A Flexible, proactive and resourceful attitude with a high level of professionalism;
Excellent language skills; fluent in English (verbal and written). Polish and German are a plus.
Who we are
ERGO Digital IT is the new digital delivery arm of one of the largest insurers in Germany, that has been built to drive innovation – both for digital solutions and technology. Despite being part of a large organization, we operate as a separate "start-up" unit, working closely with the business to make sure we solve the right problems in the right way.
We are made up by a number of product teams, which are small, flexible and use agile and lean methods to design and deliver digital products and solutions. We are in the midst of a rapid growth phase with plenty of opportunities to help shape the path forward.
We work in a fast-paced environment driven by our five core values that we measure ourselves against every day. We put our users first by using experimentation, data and testing to understand their 'true' needs. We choose speed over perfection and understand the value of failing fast. We act like an owner by trusting ourselves and the team to make decisions and by taking responsibility individually and as a team. We stay curious and hungry and will constantly challenge ourselves to do better and more. Finally, we help shape the instech eco-system by leveraging and contributing to open source.
What we have to offer
A fast-paced, dynamic environment where you can make a difference.
A start-up environment, backed-up by an established market leader
A very competitive salary and the ability to grow
A cool office space with perks and the newest IT equipment to choose from.
What to do next
If you want to join our highly motivated and growing team, click on this link and convince us that you are our new Management Assistant.
If you are interested in the position, Please upload your resume by clicking the Apply button below.