Technical People Manager
Techland Sp. z o.o.
więcej
Technical People Manager
Warszawa, mazowieckie

Kierownik

2019-03-14
Pracodawca ma prawo zakończyć rekrutację we wcześniejszym terminie.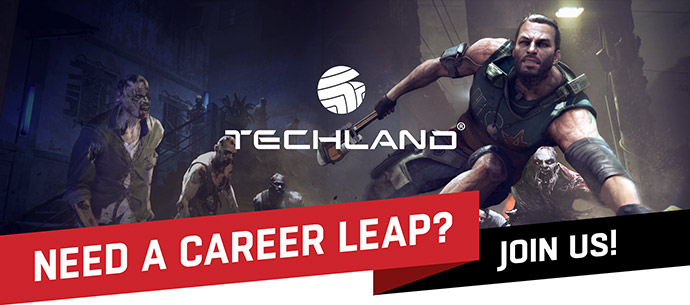 Techland is a world recognized producer, distributor and publisher of video games present on the market for over 27 years. Our games – especially Dying Light and Dying Light: The Following as well as the Dead Island and Call of Juarez series – reached international popularity and won multimillion crowds of fans. Dying Light, published in 2015, reached a total of more than 14 million players. In 2016, we've entered the global publishing market, as Techland Publishing as well as announced work on two big–budget productions: Dying Light 2 and a fantasy action RPG. With the use of the latest technology and thanks to the best specialists in the industry, we continuously provide an unforgettable experience to players around the world.
We are currently looking for a new person for the position of:
Technical People Manager
(miejsce pracy: Warszawa)

The main responsibility of the person employed in this position is managing a team (around 25–30 specialists) as part of a project structure, including:
care for the contentment and motivation of team members:

employee development (mentoring, coaching, support in setting and realizing individual goals, organizing knowledge transfer and relevant training, etc.),

responding to the current needs of employees and solving their problems,

providing current feedback to the team members about the results of their work.

care for work methodology:

increasing work efficiency through standardization and automation of processes,

planning the department's annual budget, its reviews and realization,

allocation of resources to projects (recruitment of new employees, adaptation of employees, movement within the framework/between projects),

implementing changes in organization,

caring for formal employee matters (including holidays, work time records, workstation equipment),

ensuring constant compliance of the organization with legal, quality and safety standards,

co–operation with the HR department,

co–operation with the People Manager team in order to work out common tools and good practices.
Requirements:
minimum three years of experience in a position related to managing people or a development/programming team in the IT industry,

ability to build relationships and maintain good relations with colleagues, communication skills,

knowledge of ways to motivate employees, understanding their needs and differences between them,

ability to inspire people to develop and focus on seeking new opportunities for development activities in the organization,

experience in recruitment and employee adaptation,

the ability to effectively collect and provide feedback to employees,

focus on achieving results and looking for solutions,

experience in conducting trainings, presentations,

ease of reaction in a changing environment (e.g. work under time pressure, changes in project teams),

high level of energy, personal culture,

knowledge of English allowing free communication and understanding of training materials/technical documentation.
Nice to have:
programming experience and/or work at a company that creates video games,

knowledge of the computer game industry from a player's perspective.
What are you looking for in the new job?
We cannot promise one of these things...
INTERESTING PROJECTS – We're developing two AAA games with a joint budget of over 100 million dollars, produced separately using shared technology.

TIME FOR DEVELOPMENT – You will receive an individual budget and additional days off to take part in conferences and workshops.

REAL INFLUENCE – No matter if you are an industry veteran or young talent, your work and skills have a real influence on the project and the team's work.

PARTIES AND ENTERTAINMENT – Arcade machines, barbecue, own canteen and a lot of consoles available in the office. Tasty food, a lot of percentages and great music at company events.

OFFICE IN HARRAN – a fully equipped room, only for you. We provide barbed wire, UV lamps and other anti–zombie means.

CHANCE TO TEACH – Share your knowledge through the company Mentoring Program or try your hand as a lecturer at friendly universities.

FLEXIBLE WORK – We know how important work–life balance is, which is why we use flexible working hours.