WebSphere Support Engineer
FIS Technology Services Poland Sp. z o.o.
więcej
WebSphere Support Engineer
Warszawa, mazowieckie

pokaż mapę

Specjalista

14.06.2018
Pracodawca ma prawo zakończyć rekrutację we wcześniejszym terminie.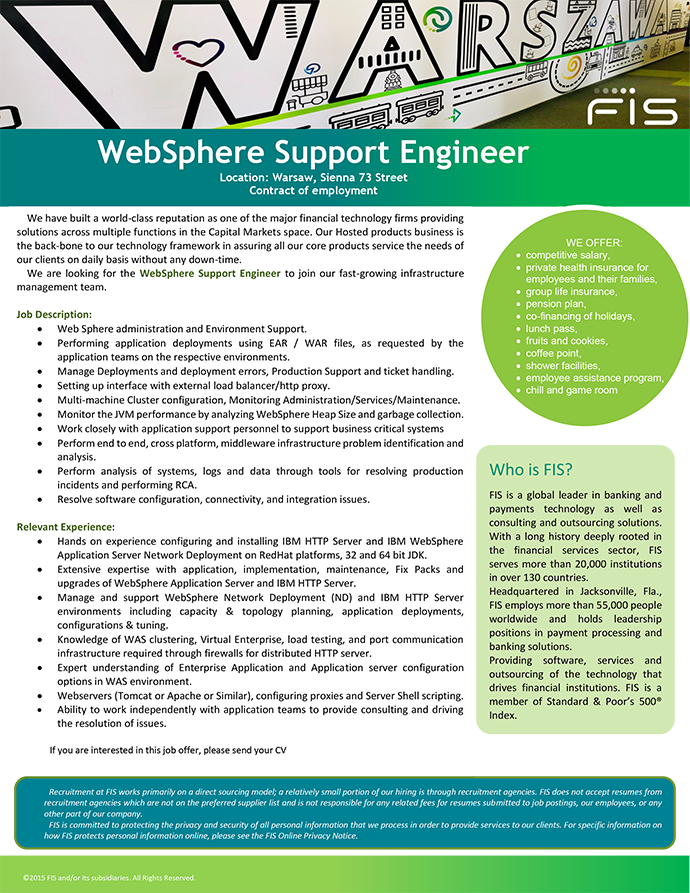 WebSphere Support Engineer
Location: Warsaw, Sienna 73 Street
Contract of employment


Miejsce pracy: Warszawa

Who is FIS?
FIS is a global leader in banking and payments technology as well as consulting and outsourcing solutions. With a long history deeply rooted in the financial services sector, FIS serves more than 20,000 institutions in over 130 countries.
Headquartered in Jacksonville, Fla., FIS employs more than 55,000 people worldwide and holds leadership positions in payment processing and banking solutions.
Providing software, services and outsourcing of the technology that drives financial institutions. FIS is a member of Standard & Poor's 500® Index.
We have built a world-class reputation as one of the major financial technology firms providing solutions across multiple functions in the Capital Markets space. Our Hosted products business is the back-bone to our technology framework in assuring all our core products service the needs of our clients on daily basis without any down-time.
We are looking for the WebSphere Support Engineer to join our fast-growing infrastructure management team.
Job Description:
Web Sphere administration and Environment Support.
Performing application deployments using EAR / WAR files, as requested by the application teams on the respective environments.
Manage Deployments and deployment errors, Production Support and ticket handling.
Setting up interface with external load balancer/http proxy.
Multi-machine Cluster configuration, Monitoring Administration/Services/Maintenance.
Monitor the JVM performance by analyzing WebSphere Heap Size and garbage collection.
Work closely with application support personnel to support business critical systems
Perform end to end, cross platform, middleware infrastructure problem identification and analysis.
Perform analysis of systems, logs and data through tools for resolving production incidents and performing RCA.
Resolve software configuration, connectivity, and integration issues.
Relevant Experience:
Hands on experience configuring and installing IBM HTTP Server and IBM WebSphere Application Server Network Deployment on RedHat platforms, 32 and 64 bit JDK.
Extensive expertise with application, implementation, maintenance, Fix Packs and upgrades of WebSphere Application Server and IBM HTTP Server.
Manage and support WebSphere Network Deployment (ND) and IBM HTTP Server environments including capacity & topology planning, application deployments, configurations & tuning.
Knowledge of WAS clustering, Virtual Enterprise, load testing, and port communication infrastructure required through firewalls for distributed HTTP server.
Expert understanding of Enterprise Application and Application server configuration options in WAS environment.
Webservers (Tomcat or Apache or Similar), configuring proxies and Server Shell scripting.
Ability to work independently with application teams to provide consulting and driving the resolution of issues.
WE OFFER:
competitive salary,
private health insurance for employees and their families,
group life insurance,
pension plan,
co-financing of holidays,
lunch pass,
fruits and cookies,
coffee point,
shower facilities,
employee assistance program,
chill and game room