Collateral Management VP
Goldman Sachs Poland Services Sp. z o.o.
więcej
Collateral Management VP
Warszawa, mazowieckie

pokaż mapę

Dyrektor/Prezes

2018-03-09
Pracodawca ma prawo zakończyć rekrutację we wcześniejszym terminie.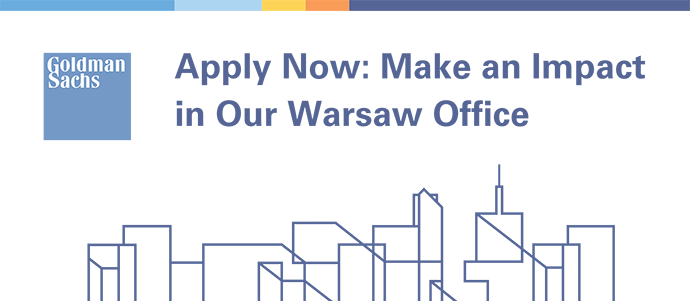 ABOUT GOLDMAN SACHS
The Goldman Sachs Group, Inc. is a leading global investment banking, securities and investment management firm that provides a wide range of financial services to a substantial and diversified client base that includes corporations, financial institutions, governments and individuals. Founded in 1869, the firm is headquartered in New York and maintains offices in all major financial centers around the world.
Collateral Management VP - Warsaw
Location: Warszawa

OPERATIONS
Operations is a dynamic, multi-faceted division that partners with all parts of the firm to provide banking, securities, and asset management services to clients around the world. In addition, Operations provides essential risk management and controls to preserve and enhance the firm's assets and its reputation. For every new product launched and every trade executed, it is Operations that develops and manages the processes and controls that enable business flow.
YOUR IMPACT
A Vice President within Collateral Management will primarily be focused on the mitigation of counterparty credit risk through the performance of and reengineering of a number of operational processes. The role calls for strong Collateral Management or Derivatives experience. A successful candidate will be expected to risk assess new business opportunities, increase optimization, and drive key strategic projects. . The role will be within the line team, and the candidate will be expected to have a working knowledge up upcoming regulatory changes, and will be part of supporting the build to meet our obligations (Margin Rules, Clearing). The role will involves close partnership and interaction with a wide range of areas, including Credit Risk Management, Legal and Compliance, Sales, Trading, Risk Management and other Operations Departments. As a result the successful candidate will be required to possess strong communication skills.
OUR IMPACT
Collateral Management, part of Margin, Valuations & Pricing Operations sits within the Goldman Sachs Liquidity Collateral & Optimization organization. A global, multi faceted and cross product function, the primary objective of the department is the mitigation of counterparty credit risk through the active monitoring of clients' derivative and securities financing portfolios. Collateral Management is currently +100 staff strong in globally, with regions in Salt Lake City, New York, London, Bangalore and Singapore working closely together. The team have a rare opportunity to support products and business ranging from foreign exchange, commodities, credit, Equity, Interest Rates, Repo, Insurance/Pensions and bespoke structured derivatives and arrangements. The team manages a wide range of complex processes, with members developing skills and competencies around derivative & security products and their respective business areas, legal agreements, technology flows and regulations.
RESPONSIBILITIES AND QUALIFICATIONS
HOW YOU WILL FULFILL YOUR POTENTIAL
Ability to generate creative solutions to problems and challenge processes; be willing to dig into the detail to resolve issues.
Some experience of portfolio reconciliations and processing of margin calls would be desirable.
Flexible to manage differing challenges and ever-increasing complex nature of transactions
Confidence to interact with external clients
Ability to learn quickly in a fast moving environment. Team oriented approach to sharing workload and leverage skill sets
Strong organizational skills and the ability to cope with rapidly changing priorities throughout the day are essential
Strong attention to detail and the ability to keep track of a large and varied workload
Familiarity with/ability to learn Excel macros and other functions
SKILLS & EXPERIENCE WE'RE LOOKING FOR
Functional Expertise - Keeps up-to-date with emerging business, economic, and market trends
Technical Skills - Demonstrates strong technical skills required for the role, pays attention to detail, takes initiative to broaden his/ her knowledge and demonstrates appropriate financial/analytical skills
Drive and Motivation - Successfully handles multiple tasks, takes initiative to improve his/her own performance, works intensely towards extremely challenging goals and persists in the face of obstacles or setbacks
Client and Business Focus - Effectively handles difficult requests, builds trusting, long-term relationships with clients, helps the client to identify/define needs and manages client/business expectations
Teamwork
Gives evidence of being a strong team player, collaborates with others within and across teams, encourages other team members to participate and contribute and acknowledges others' contributions
Communication Skills - Communicates what is relevant and important in a clear and concise manner and shares information/new ideas with others
Judgement and Problem solving - Thinks ahead, anticipates questions, plans for contingencies, finds alternative solutions and identifies clear objectives. Sees the big picture and effectively analyses complex issues
Creativity/Innovation - Looks for new ways to improve current processes and develop creative solutions that are grounded in reality and have practical value
Influencing Outcomes - Presents sound, persuasive rationale for ideas or opinions. Takes a position on issues and influences others' opinions and presents persuasive recommendations

Wyrażam zgodę na przetwarzanie moich danych osobowych zawartych w mojej ofercie pracy dla potrzeb niezbędnych do realizacji procesu rekrutacji zgodnie z ustawą z dnia 29 sierpnia 1997 r. o ochronie danych osobowych (tj. Dz. U. z 2014 r. poz. 1182, 1662).