Data Analyst MDM
EY Global Delivery Services
więcej
Data Analyst MDM
Warszawa, mazowieckie

Kierownik

2018-10-16
Pracodawca ma prawo zakończyć rekrutację we wcześniejszym terminie.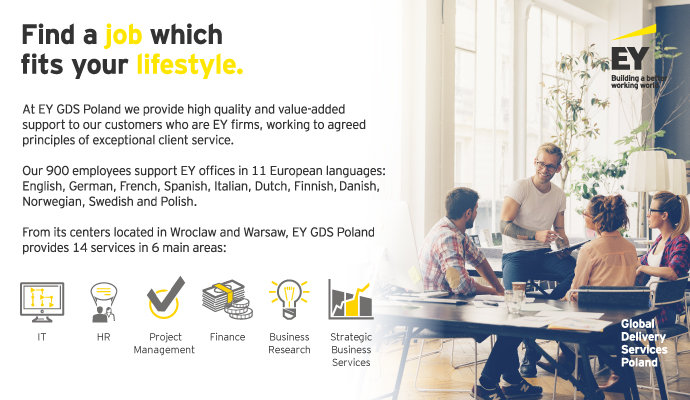 Data Analyst MDM
Workplace: Warszawa
Ref no: WRO001PL

About Mercury Support Team (MST):
As an organization jointly owned by the business and IT, the Mercury Support Team (MST) is a centralized, global organization that provides operational support for our integrated, SAP-centric platform (Mercury). As the solution continues to be deployed globally, the MST partners with the Mercury Program to support countries as they come online. Over time the team will play an integral governance role in the global solution. We will continue to work closely with the business to enable the full benefit and value to be realized from the investment and to set the future direction and technology road map.

Essential Functions of the Job:
Manage the hierarches, and governance processes to ensure they are maintained, supported and meet current business requirements, including scheduled reviews and updates
Maintain the current documentation which includes hierarchy, and master data definitions, standards and policies
Provide expert knowledge through research and acquired business knowledge
Determine and publish data quality standards and measures/KPIs for master data attribute
Investigate, promote and recommend new uses and utilization of hierarchies, taxonomies, and governance processes
Provide a business case and resource estimates for development work required for Governance processes and data quality profiling, monitoring and reporting
Serve as contributor and subject area expert in the collaborative review of new data designs and development.
Work with project management and enterprise architecture counter parts to ensure a unified strategy around hierarchies, reference data, and vocabularies
Evaluate new data sources for adherence to the organization's quality standards and work with Information Architecture to identify trusted or best sources of data and populate the Business Data Glossary with that metadata
Provide input and guidance regarding master data and data quality standards and processes to business and solution teams
Manage the master data governance processes
Provide functional requirements for development of governance workflow process development
Direct the development of governance workflow processes, and coordinate UAT and production roll-out
Evaluate governance workflow requests to ensure adherence to EY global standards and policies
Communicate all new, and changes to hierarchies and governance processes to the primary stakeholders and the user community
Serve as the primary quality control analyst for all master data entities in the primary databases
Develop and maintain data profiling and monitoring queries, routines and reports against all MDM to ensure a defined standard of data quality for master data attributes
Audit and report data quality measures/KPIs against all systems to the business units, as they pertain to the master data attributes
Escalate data management decisions that cannot be made easily or due to unresolved conflict
Your key responsibilities:
Report on, and support through enforcement, the agreed and signed-off policies mandated by the Data governance policy.
Identify data governance metrics and execute audits to benchmark the state of data quality, retention, security etc., and its impact on desired business outcomes.
Regularly expose data governance metrics via standard reporting mechanisms (for example, data quality scorecard or dashboard).
Engage with business leadership (key business managers, Talent leadership etc.), to quantify and articulate the business impact of violations of policy.
Develop data quality methodologies to execute data quality improvement projects.
Actively participate in the design and deployment of applications and data integration processes to ensure standards and controls, to ensure high-quality data is implemented in adherence with data governance policies.
Reports to the MCCS Data Governance Lead
Works as required to:
Assist with training and development of other staff members
Support staff members in their roles
Knowledge and Skills Requirements:
Skills that demonstrate the ability to work with multiple business lines to drive governance and stewardship.
Strong research and analytical skills, as well as, data profiling, manipulation and cleansing experience.
Detailed oriented, strong organizational skills, and the ability to work independently or as part of a team.
Multi-tasking abilities and the ability to work in a fast paced environment.
Desire and aptitude to learn Master Data Management technologies and concepts.
Able to interpret data from both technical and business perspective
Understanding of master data management, data integration & SOA methodologies, concepts & approaches
Demonstrate an inclusive and globally aware mindset
Ability and flexibility to work in a virtual environment across multiple time zones
Skills and attributes to success:
5+ years' experience in the data management field,
Experience that demonstrates the ability to work with multiple business lines to drive governance and stewardship within a global organizations
Experience with major querying tools and knowledge of database concepts a plus
5+ years, in a supporting role of data or information management involving data analysis, data stewardship, metadata management, data governance and/or master data management in a large business setting.
Experience that demonstrates the ability to work with multiple business lines to drive governance and stewardship within a global organization.
Experience in change management, configuration management, or incident management would be a plus.
Experience with major querying, data profiling tools and knowledge of database concepts preferred
What working at EY GDS offers:
In EY GDS you can count on stable employment and upgrading your career. You will get a support and coaching from some of the most engaging colleagues around. You will also find the freedom and flexibility to handle your role in the most beneficial way.
If you can confidently demonstrate that you meet the criteria above, please contact us as soon as possible.
Make your mark.
Apply now.