Data Steward Senior Associate - ETL/integration
EY Global Delivery Services
więcej
Data Steward Senior Associate - ETL/integration
Wrocław, dolnośląskie

Specjalista

24.11.2017
Pracodawca ma prawo zakończyć rekrutację we wcześniejszym terminie.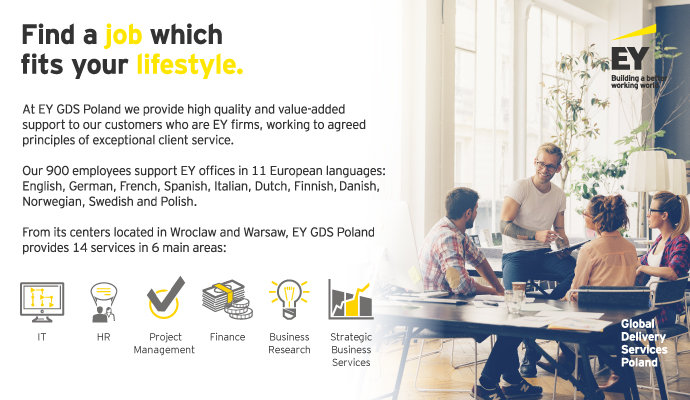 Data Steward Senior Associate - ETL/Integration
Workplace: Wrocław
Ref no: WRO001DK

About Mercury Support Team (MST):
Finance Infrastructure is an internal EY Finance organization that is part of EY's Global Controllership. Finance Infrastructure helps support several key Finance Products including Mercury (which is EY's SAP centric platform supporting Customer to Cash processes).
Finance Infrastructure is part of the Mercury Support Team (MST) which is an organization jointly owned by the business and IT. The MST is a centralized and global organization that provides operational support for an integrated, SAP-centric platform (Mercury) and manages and supports the Mercury user community. The MST plays an integral governance role in the global Mercury solution and will evolve to work closely with the business to enable the benefit and value to be realized from the investment in Mercury and to set the future direction and technology road map.
Essential Functions of the Job:
Design, implement and enhance automated data quality assessments, compliance metrics and KPIs.
Design, implement and enhance automated data profiling and integration of internal and external data sources required for effective governance.
Proactively identify data governance opportunities associated with business issues and risks and develop solutions to mitigate risk and improve efficiency.
Demonstrate skill to pro-actively identify critical or key master- and reference data elements associated with business issues to be included in the governance function.
Understand business issues and risks from a system, process and control, and most importantly a data perspective.
Facilitate and enable accurate documentation of metadata, lineage, models, interfaces, transformations and other activity in the data life cycle with impact on risks associated with key data elements.
Facilitate and enable ongoing definition and implementation of data standards to mitigate risks associated with key data elements.
Produce key measurements that communicate governance performance, including KPIs, monthly achievements, project status and issues to be addressed
Translate team priorities into actionable plans to meet strategic objectives of the Data Governance function.
Develop multiple relationships across the organization and own team, based on authenticity and respect. Leverage networks across the organization, working with diverse teams so that the Data Governance function is credible and valued across EY. Other parts of the business include IT, Finance, Data Privacy (GCO), Risk, Business Reporting Group, Service Lines Leaders, Area leadership, Talent Leadership
Go beyond technical excellence aspects to provide insights including thought leadership, embedding leading practice methods and processes to deliver value from Data Governance function.
Serve as the primary quality control analyst for all master data entities in the primary databases
Serve as contributor and subject area expert in the collaborative review of new data designs and development.
Escalate data management decisions that cannot be made easily or due to unresolved conflict
Provide a business case and resource estimates for development work required for Governance processes and data quality profiling, monitoring and reporting
Provide expert knowledge through research and acquired business knowledge
Your key responsibilities:
Report on, and support through enforcement, the agreed and signed-off policies mandated by the Data governance policy.
Identify data governance metrics and execute audits to benchmark the state of data quality, retention, security etc., and its impact on desired business outcomes.
Regularly expose data governance metrics via standard reporting mechanisms (for example, data quality scorecard or dashboard).
Engage with business leadership (key business managers, Talent leadership etc.), to quantify and articulate the business impact of violations of policy.
Develop data quality methodologies to execute data quality improvement projects.
Actively participate in the design and deployment of applications and data integration processes to ensure standards and controls, to ensure high-quality data is implemented in adherence with data governance policies.
Reports to the Mercury Support Solution Center Data Governance Technical Lead
Actively participate in self and team development by providing day-to-day guidance, feedback and on-the-job coaching wherever possible.
Actively involved in the team activities to work as a team.
Knowledge and Skills Requirements:
Comprehensive understanding of the importance and impact of data (or bad data) on the ability of the business to meet its objectives.
Aptitude to gain in-depth knowledge of EY's systems, data and key business processes.
Understanding of how data is used within business processes and its impact on desired business process outcomes, derived from multiple years of exposure to the EY business setting.
Demonstrate strong understanding and usage of Information Steward Components on Data Insight, Metadata Management, Matapedia, Cleansing Package Builder, Match Review and Custom attributes build.
Experience with SAP MDM, MDG etc
Comprehensive understanding of data analytics solutions, data conversion implementations and tools, ERP data models, data warehouse models, data profiling techniques, ETL/data integration tools and technology, MDM solutions, and SDLC.
Strong leadership and consensus-building skills at all levels in EY, from clerical positions to the senior leadership team
Complex problem solving / conceptual thinking: Knowledge, skills and abilities needed to establish and refine the strategies that drive organizational performance and add value to the business
Solid aptitude on project management skills, to guide both point-in-time and ongoing targeted data quality solution implementation projects.
Ability to perform and manage multiple tasks simultaneously and work well under pressure and with time constraints demonstrating strong organizational skills
Strong aptitude working at low levels of detail, examining data and trends in values to understand variations and seek the root causes, to legitimize the trend or classify it as a data governance issue.
Demonstrate an inclusive and globally aware mindset
Ability and flexibility to work in a virtual environment across multiple time zones
Flexibility to work non-standard hours in supporting global production systems.
Excellent problem solving and decision making skills
Ability to react appropriately during crisis situations.
Operate in a dynamic, fast moving and changing environment
Operate in a global matrix environment
Some business travel may be needed
Skills and attributes to success:
3+ years' experience in a global professional services firm performing data management and/or governance, system integration, implementing data analytics, warehouse, MDM and/or BI solutions in a
Understanding of the end-to-end data life cycle requirements of key business processes.
Demonstrate in-depth knowledge of all the nunances of SAP Data Services.
Demonstrate in-depth knowledge of Information Steward Components on Data Insight, Metadata Management, Metapedia, Cleansing Package Builder, Match Review and Custom attributes build etc.
Project management training practical application experience is preferred.
Exposure to data quality, records management, security and privacy concepts, best practices, and tools/technologies
EY Knowledge a plus but not a requirement Experience in change management, configuration management, or incident management would be a plus.
What working at EY offers:
In EY you can count on stable employment and upgrading your career. You will get a support and coaching from some of the most engaging colleagues around. You will also find the freedom and flexibility to handle your role in the most beneficial way.

If you can confidently demonstrate that you meet the criteria above, please contact us as soon as possible.
Make your mark.
Apply now.