Data Steward Senior Associate - MDM
EY Global Delivery Services
więcej
Data Steward Senior Associate - MDM
Wrocław, dolnośląskie

Specjalista

28.12.2017
Pracodawca ma prawo zakończyć rekrutację we wcześniejszym terminie.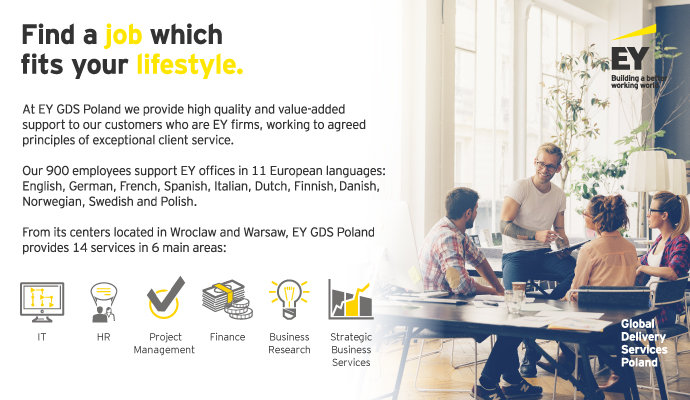 Data Steward Senior Associate - MDM
Workplace: Wrocław
Ref no: WRO001DP

About the Mercury Support Team
As an organization jointly owned by the business and IT, the MST is a centralized and global organization that will provide operational support for an integrated, SAP-centric platform (Mercury) and manage and support the Mercury user community. The MST will play an integral governance role in the global Mercury solution and will evolve to work closely with the business to enable the benefit and value to be realized from the investment in Mercury and to set the future direction and technology road map.
Within MST the MDM Data Steward manages and ensures adherence to the product management and process controls framework for the Mercury Support Team (MST). The MDM Data steward works closely with cross organizational teams to facilitate the Product management of Master Data Maestro (MDM) as it relates to the maintenance of the Firm's Master Data. The MDM Data steward also coordinates changes within the MDM application and maintenance of reference data as dictated by the needs of the business.
Job Summary:
The MDM Data steward is responsible for the implementation and oversight of the Firm's product management goals and is responsible for data advocacy, stewardship and audit including the management of standards, guidelines, approved workflow processes, systems and KPIs for all master data objects in Mercury scope.
Working with the Global process Owners, the MDM Data steward will develop a governance structure and master data strategy for defined objects
Accountability for the definition of and adherence to data standards and data quality measures for Mercury and MDM related data.
Have operational responsibility for data standards and data quality.
Ensure adoption and enforcement of best practices by monitoring KPIs
Success in the role will be evaluated based on the degree to which they attain goals established for the smooth transition from the Firm's legacy system to MDM, stability of the new solution and ease of adoption of the new standards.
Specific targets for improvement to data quality metrics will also be used as a main reference point.
The role will also be measured on the direct, tangible cost reductions and business benefits derived from their continuous improvement activities.
Essential Functions of the Job:
Work with the MDM PM in moving the MDM solution towards the targeted business objectives and work with the Markets team in achieving their reporting needs
Work closely with the Markets and Finance teams to design and develop a solution to manage the Firm's Clients and Accounts
Excellent handle on designing and maintaining Master data within Financial / CRM systems
Develop a coexistence strategy to maintain the current system and leverage the future Mercury based solution to provide end users with a seamless transition across systems
Work with MST Data team who will be responsible for the quality and integrity of data within MDM
Design and implement crosswalks to assist with the conversion of current state data to a form that can be consumed by MDM.
Interface with the business teams, Finance and Area personnel to ensure that the enhancements to the product are in line with the requirements of the business and conform to the Vision 2020 initiatives
Coordinate with IT and cross portfolio teams to implement system enhancements to ensure that the application is stable and performance meets the agreed upon SLA's
Implement relevant controls and compliance metrics to reduce data issues and improve data quality with a view to provide accurate reporting
Deliver reconciliation reports including data quality and compliance with all established SLAs and originate actions for improvement
Integrate with downstream enterprise systems like SAP and generate exception reports on non-compliance with EY's policies and processes.
Coordination of activities across network of Global Data Analysts and Global Data Stewards
Proactive monitoring and tracking of data quality (e.g. integrity, completeness and consistency) levels and other metrics which assess the adherence to Data Governance policies within EY
Analytical/Decision Making Responsibilities:
Report on, and support through enforcement, the agreed and signed-off policies mandated by the Process Integration policies.
Identify process improvement metrics and perform reconciliation from time to time to achieve desired business outcomes.
Regularly expose process integration metrics via standard reporting mechanisms (for example, data quality scorecard or dashboard).
Engage with business leadership (key business managers, Talent leadership etc.), to quantify and articulate the requirements of Markets, Finance, Procurement and CRM
Develop data quality methodologies to execute data quality improvement projects.
Actively participate in the design and deployment of applications to ensure high-quality data is implemented in adherence with process integration policies.
Publicize success, ideally in the form of quantified business benefits, to further engage individuals at all levels of the organization.
Supervision Responsibilities:
Reports to the MDM Product Manager
Actively engages with the data stewards and Data Governance team members
Manages initiatives, projects and third party consultants working within the MDM domain
Other Requirements:
Demonstrate an inclusive and globally aware mindset
Ability and flexibility to work in a virtual environment across multiple time zones
Process management and Technical skills requirements:
3+ years of experience, in the data management field with experience in designing and implementation of Master Data elements
Understanding of the end-to-end data life cycle requirements of key business processes.
Mastery of data quality, data conversion tools, best practices, and tools/technologies
Trained on MDM tools like Profisee, Tibco CIM (MDM)
Held leadership roles in full life-cycle MDM projects
Experience with Data Modeling on various Databases such as DB2, SQL Server, Oracle and various operating systems
Knowledge of enterprise resource systems like SAP
Understanding of Business Process Management and related technologies
Exposure to IT methodology frameworks like ITIL etc.
EY Knowledge a plus but not a requirement
Deep and comprehensive understanding of the importance and impact of data (or bad data) on the ability of the business to meet its objectives.
Understanding of how data is used within business processes and its impact on desired business process outcomes, derived from multiple years of exposure in a business setting.
Experience with data analysis techniques to aid in reporting and executive management presentations
Project management skills and knowledge of project management tools, to guide both point-in-time and ongoing targeted data quality and cleansing initiatives
Ability to perform and manage multiple tasks simultaneously and work well under pressure and with time constraints. Strong project management and organizational skills
Complex problem solving / conceptual thinking: Knowledge, skills and abilities needed to establish and refine the strategies that drive organizational performance and add value to the business
Facilitation and conflict resolution skills, to assist in resolving the different points of view and requirements during cross-team and cross-organization efforts.
Comfortable working at low levels of detail, examining data and trends in values to understand variations and seek the root causes, to legitimize the trend or classify it as a data governance issue.
Experience in providing coaching/mentoring to other team members
Strong written and verbal communication skills, interpersonal skills and the ability to interface effectively with Business Users, other IT groups and team members is required
Ability to assess the impact of data architecture changes on the business, application relationships, information flow and hardware configurations
Understanding of design considerations for high volume transaction systems & large database implementations.
Experience in managing scope and estimate delivery schedules for projects
Experience in managing cross-border teams
What working at EY offers:
In EY you can count on stable employment and upgrading your career. You will get a support and coaching from some of the most engaging colleagues around. You will also find the freedom and flexibility to handle your role in the most beneficial way.
If you can confidently demonstrate that you meet the criteria above, please contact us as soon as possible.
Make your mark.
Apply now.