European Engineering Leadership Program
Mars Polska Sp. z o.o.
więcej
European Engineering Leadership Program
pomorskie

Praktykant/Stażysta

2018-08-12
Pracodawca ma prawo zakończyć rekrutację we wcześniejszym terminie.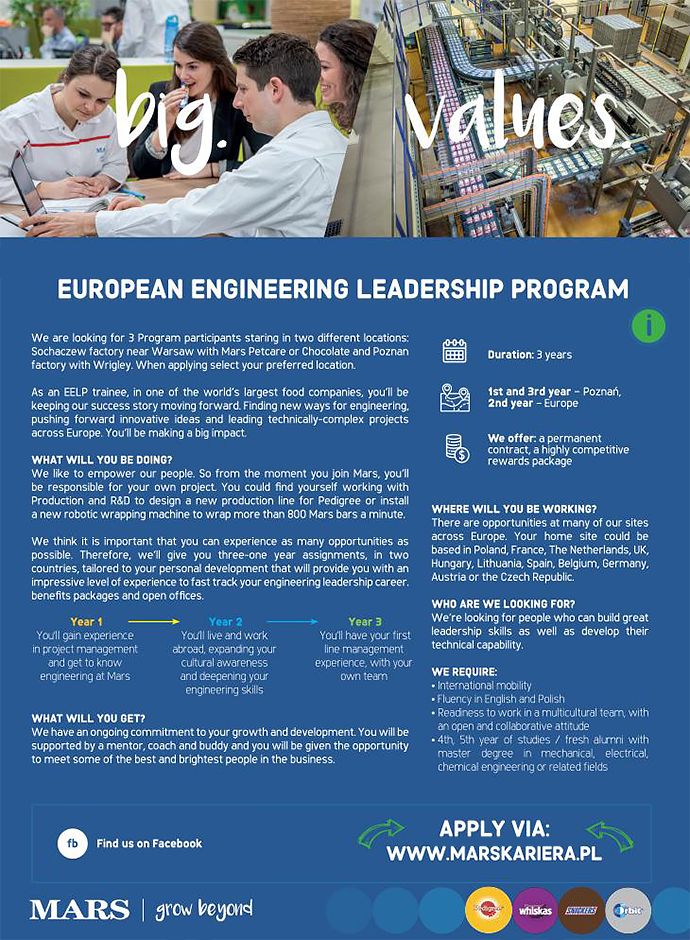 European Engineering Leadership Program
We are looking for 3 Program participants staring in two different locations: Sochaczew factory near Warsaw with Mars Petcare or Chocolate and Poznan factory with Wrigley. When applying select your preferred location.
As an EELP trainee, in one of the world's largest food companies, you'll be keeping our success story moving forward. Finding new ways for engineering,pushing forward innovative ideas and leading technically-complex projects across Europe. You'll be making a big impact.
WHAT WILL YOU BE DOING?
We like to empower our people. So from the moment you join Mars, you'll be responsible for your own project. You could find yourself working with Production and R&D to design a new production line for Pedigree or install a new robotic wrapping machine to wrap more than 800 Mars bars a minute. We think it is important that you can experience as many opportunities as possible. Therefore, we'll give you three-one year assignments, in two countries, tailored to your personal development that will provide you with an impressive level of experience to fast track your engineering leadership career. benefits packages and open offices.
Year 1
You'll gain experience in project management and get to know engineering at Mars
Year 2
You'll live and work abroad, expanding your cultural awareness and deepening your engineering skills
Year 3
You'll have your first line management experience, with your own team
WHAT WILL YOU GET?
We have an ongoing commitment to your growth and development. You will be supported by a mentor, coach and buddy and you will be given the opportunity to meet some of the best and brightest people in the business.
WHERE WILL YOU BE WORKING?
There are opportunities at many of our sites across Europe. Your home site could be based in Poland, France, The Netherlands, UK, Hungary, Lithuania, Spain, Belgium, Germany,Austria or the Czech Republic.
WHO ARE WE LOOKING FOR?
We're looking for people who can build great leadership skills as well as develop their technical capability.
WE REQUIRE:
International mobility
Fluency in English and Polish
Readiness to work in a multicultural team, with an open and collaborative attitude
4th, 5th year of studies / fresh alumni with master degree in mechanical, electrical, chemical engineering or related fields
Duration: 3 years
1st and 3rd year Warsaw
/ factory in Sochaczew/
Poznań, 2nd year – Europe
We offer: a permanent contract, a highly competitive rewards package