Ogłoszenie wygasło 4 lat temu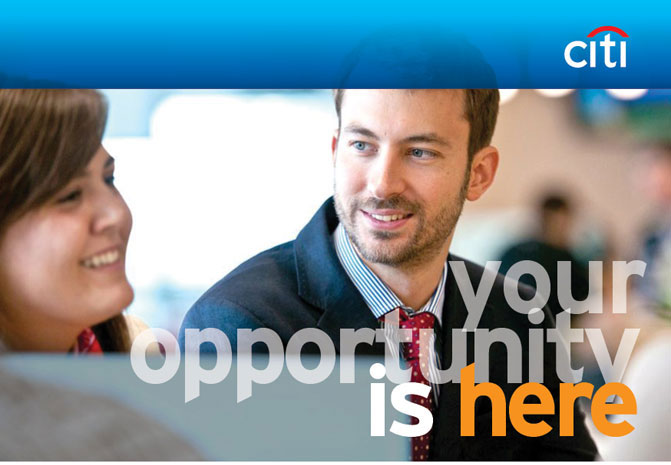 Citi Service Center (CSC)
is an initiative to establish a network of service centers providing high quality services to other entities operating within the

Citi

Group.
Citi Service Center Poland
was founded in 2005, and it currently employs over 3000 highly qualified staff in three locations: Warsaw, Olsztyn and Lodz. CSC cooperates with other Citi entities from all over the world.

Currently we provide services to over

60 countries in Europe, Asia, Africa, both Americas and Australia

. Our employees use over 24 languages every day. Working in our organization involves working on international projects, in an international and dynamic environment as well as learning the top quality organizational culture.
Candidates interested in this job position are asked to apply by
Applying Form
or by the yellow apply button below
Read more about career opportunities at: careeratciti.pl or facebook.com/citigradsemea

www.citibankinternational.pl
Citi Service Center Poland
Work place: Warszawa
HPM/0915/AK

Responsibilities:
Lead and implement HR processes change initiatives

Develop strong relationships with the specialist teams to ensure HR processes efficiency

Work closely with HRPS Hub Head and HRAs across business lines to ensure the effective & seamless re-engineering and delivery of HR processes

Collation of training materials and ensuring that respective training is given to all HRPS team members in the business lines

Proactively review processes and procedures to ensure they are current and up to date on a regular basis

Suggesting and communicating any changes to make the process more effective

Prepare and provide communication and guidance on all HR processes performed by HRPS team

Understand and proactively manage risk and compliance across all areas of work

Act as the Business Unit Compliance Officer

Coordinate MCA process

Manage all activities related to Intra Citi Service Agreements

Actively contribute to HR projects
Requirements:
Strong Project Management experience with attention to detail

In-depth knowledge and experience in project and process management

Minimum of 3 years relevant experience

Proven experience as a change agent having effectively implemented change in large cross functional organization

Experience in an HRBP/HR Adviser role preferred

Knowledge and experience of sound HR practice and processes

Commercial awareness and a solid understanding of how HR adds value to the business

Strong track record of customer service mind-set

Fluency in English (both verbally and in writing)

Proven track record of delivery in a busy environment

A familiarity with Citi and its range of businesses essential

Experience in a broad range of HR areas; Business Partnering, Compensation, Employee Relations, Resourcing, Talent Development and Mobility are some of the areas of expertise that would be desirable

Excellent operation issue resolution skill

Excellent interpersonal, communication, and time management skills

Good teamwork attitude

Proficient in the use of HR systems as well as in Microsoft Word, Excel and PowerPoint

Self-motivated, driven individual who is comfortable working in a global, matrixed, fast-paced environment

Ability to work under pressure

High tolerance for dealing with ambiguity and on-going change

'Process improvement' mindset to increase the effectiveness and efficiency

Resilient under pressure and self-motivated in a fast paced and demanding environment.

Proficient in the use of HR systems as well as in Microsoft Word, Excel and PowerPoint

Adaptable approach and execution orientated

Accuracy and attention to detail
We offer:
Opportunity to gain expertise in delivering HR services in large and complex organization

Attractive and stable employment conditions

Attractive salary

Opportunity to develop in international environment, in one of the greatest financial institution worldwide

Broad social benefits
Please be informed that we will contact selected candidates only.
You are kindly requested to include the following clause in your application: "I hereby give my consent to the processing of my personal data included in my job application for the purpose of the recruitment process and after its completion for the purpose of future recruitments (pursuant to the Personal Data Protection Act as of 29 August 1997, Journal of Laws No. 133, item 883).

© 2013 Citigroup Inc. All rights reserved. Citi and Arc Design and Citibank are trademarks and service marks of Citigroup Inc. or its affiliates, used and registered throughout the world.

HR Project Manager
Numer ref.: HPM/0915/AK
Responsibilities:
Lead and implement HR processes change initiatives

Develop strong relationships with the specialist teams to ensure HR processes efficiency

Work closely with HRPS Hub Head and HRAs across business lines to ensure the effective & seamless re-engineering and delivery of HR processes

Collation of training materials and ensuring that respective training is given to all HRPS team members in the business lines

Proactively review processes and procedures to ensure they are current and up to date on a regular basis

Suggesting and communicating any changes to make the process more effective

Prepare and provide communication and guidance on all HR processes performed by HRPS team

Understand and proactively manage risk and compliance across all areas of work

Act as the Business Unit Compliance Officer

Coordinate MCA process

Manage all activities related to Intra Citi Service Agreements

Actively contribute to HR projects
Requirements:
Strong Project Management experience with attention to detail

In-depth knowledge and experience in project and process management

Minimum of 3 years relevant experience

Proven experience as a change agent having effectively implemented change in large cross functional organization

Experience in an HRBP/HR Adviser role preferred

Knowledge and experience of sound HR practice and processes

Commercial awareness and a solid understanding of how HR adds value to the business

Strong track record of customer service mind-set

Fluency in English (both verbally and in writing)

Proven track record of delivery in a busy environment

A familiarity with Citi and its range of businesses essential

Experience in a broad range of HR areas; Business Partnering, Compensation, Employee Relations, Resourcing, Talent Development and Mobility are some of the areas of expertise that would be desirable

Excellent operation issue resolution skill

Excellent interpersonal, communication, and time management skills

Good teamwork attitude

Proficient in the use of HR systems as well as in Microsoft Word, Excel and PowerPoint

Self-motivated, driven individual who is comfortable working in a global, matrixed, fast-paced environment

Ability to work under pressure

High tolerance for dealing with ambiguity and on-going change

'Process improvement' mindset to increase the effectiveness and efficiency

Resilient under pressure and self-motivated in a fast paced and demanding environment.

Proficient in the use of HR systems as well as in Microsoft Word, Excel and PowerPoint

Adaptable approach and execution orientated

Accuracy and attention to detail
We offer:
Opportunity to gain expertise in delivering HR services in large and complex organization

Attractive and stable employment conditions

Attractive salary

Opportunity to develop in international environment, in one of the greatest financial institution worldwide

Broad social benefits
Candidates interested in this job position are asked to apply by
Applying Form
or by the yellow apply button below
Ogłoszenie archiwalne