Junior Accounting Manager
Capgemini Polska Sp. z o.o.
więcej
Junior Accounting Manager
Kraków, małopolskie

pokaż mapę

Specjalista

19.03.2018
Pracodawca ma prawo zakończyć rekrutację we wcześniejszym terminie.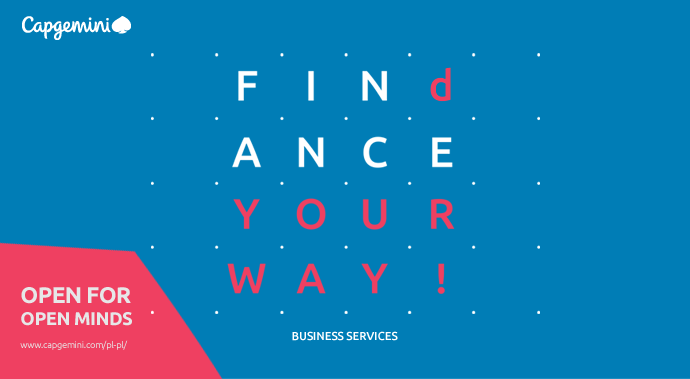 Capgemini is one of the world's foremost providers of consulting, technology and outsourcing services.
Capgemini Business Services department is one of the first and the biggest outsourcing centers in Poland providing services in 30 different languages in the areas of: finance, accounting, banking, procurement, customer care and marketing services. Business Services employs over 4000 specialists in its offices located in Krakow and Katowice.
Junior Accounting Manager
Location: Kraków
Numer referencyjny: pracuj.pl/FATM/Gr/KRK

Position purpose

The main purpose of the role is to help develop a long-term, strategic relationship with our Client by delivering and driving forward high quality services from the Krakow and Bangalore Service Centre. The role involves managing end to end process effectively (P2P, R2A and C2C services delivered from both centres) on a daily basis including operations, finance and providing leadership in order to provide the Client with a high quality service. In addition to ensuring that all Service Level Agreements and KPIs are met according to schedule. The role will provide an opportunity for creative thinking and solution design, and will involve managing any changes to the operations as we constantly look for ways to shape, simplify and sustain services.
Manager assigned to this role will closely cooperate with WK managers on high positions and with business directly, perform own operational tasks (closing, reporting) and support Capgemini work.
On top of it the manager will build effective relationships.
Job description
Assures sufficient resources to perform operations for the Client
Creates, leads and develops strong and effective teams motivated towards effective performance

and objectives realization
Ensures that all targets and deadlines described in KPIs and SLAs are met according to Client's expectations
Manages turnover and recruitment processes for the project
Accurately forecasts and manages costs and profitability for the project
Takes care of quality improvements
Plays a role model to influence other individuals behavior and professional development
Defines new opportunities by identification of potential areas where scope of project can be increased, encourages the Client to identify other areas that could have the impact on scope increase
Candidate's profile
O2C or R2R experience is a must
Related business knowledge, experience in service delivery phases and people management
Fluency in German and English and strong communication skills
Strong client relationship management skills
Impact and influence skills
Process management and improvements skills
Good client facing and presentation skills
Change management skills
Able to work on multiple tasks in demanding environment and work with people from diverse culture
Ability to work effectively under time pressure and with deadlines
Teamwork approach
Flexibility, ability to deal with ambiguity and change
What we offer
You will work in multinational, stable company for c.a. 100 Blue Chip Clients - known, global brands, supported by 6000 professionals in 30 languages.
You will gain space to fulfill your ambitions and develop your career, opportunity to take part in transition projects. We operate according to Lean and Kaizen philosophy.
You will choose your career path (experts or managers) – you will work among professionals (over 900). We will support you to gain knowledge (20 000 online trainings and in class) and get certified (e.g. ACCA, Prince2, PMP). You will have the opportunity to take part in coaching programs and develop your knowledge in experts communities.
You will work in line with high, international work standards and you will have an opportunity to engage in CSR initiatives.
You will be appreciated for your results and professionalism – based on clear rules of promotion. Our company applies a wide choice of perks (free private medical care for you and your family, additional life insurance). We help to keep right proportions between your work and private life (Business Parent Program).
As a disabled person you will get professional support. We are open to provide assistive technologies for people with diverse disabilities. We care about inclusion and equal rights approach. We conduct disability awareness trainings. Join our Win with Capgemini Program for people with disabilities.
Please be advised that Capgemini Poland Sp. z o.o. located in Warsaw, Al. Jerozolimskie 96, is the controller of personal data provided by you in the recruitment applications. Your personal data will be processed in accordance with the Personal Data Protection Act of 29 August 1997 (Journal of Laws2002, No. 101, item. 926 with further amendments) for the purpose of existing and future recruitment processes. Please be advised that in scope of recruitment process your personal data will be processed by the controller and sub-processors located outside European Economic Area including India's entity. Data submission is voluntary. Every person has the right to access their data in order to correct it or delete it"


Please include following statement in your application:


"I hereby authorize Capgemini Poland Sp. z o.o. to process my personal data included in my job application for existing and future recruitment processes (in accordance with the Personal Data Protection Act of 29 August 1997, Journal of Laws 2016, item. 922 with further amendments). I also authorize Capgemini Poland Sp z o.o. to sub-process my personal data outside European Economic Area including India's entity, which may also include Capgemini's clients within and outside of EEA."


We protea your privacy. We kindly inform you that we contact only chosen candidates.The recruitment process is conduaed in accordance with the principles of equal treatment in employment. Labor Code, Chapter lla. Art. 183a-183e. Employment Agencies Register - 9595.