Knowledge Analyst
EY Global Delivery Services
więcej
Knowledge Analyst
Wrocław, dolnośląskie

Specjalista

2018-03-10
Pracodawca ma prawo zakończyć rekrutację we wcześniejszym terminie.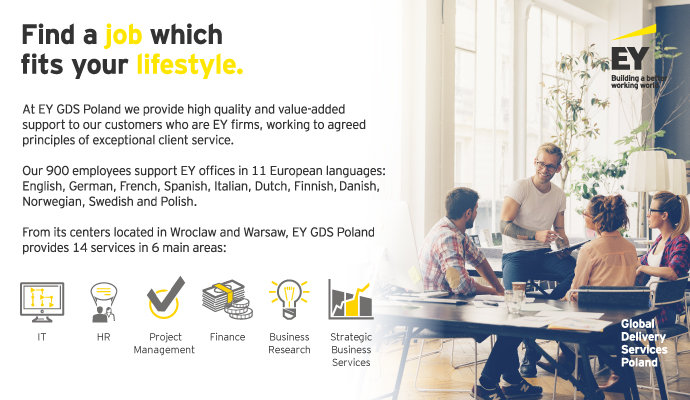 Knowledge Analyst
Workplace: Wrocław
Ref no: WRO001HD

Job summary
About the EY Finance Infrastructure Mercury Support Team (MST):
As an organization jointly owned by the business and IT, the MST is a centralized and global organization that will provide strategic deployment, adoption, and operational support for an integrated, SAP-centric platform (Mercury) and manage and support the Mercury user community. The MST will play an integral governance role in the global Mercury solution and will evolve to work closely with the business to enable the benefit and value to be realized from the investment in Mercury and to set the future direction and technology road map.
About this Role:
This position is responsible for producing and editing knowledge Content needs of the MST and the broader Mercury Integrated Support Model. As such, the role is responsible for understanding and applying the policies, procedures, processes, technology and related systems that comprise the firm's knowledge management strategy. This role is also responsible for maintaining the quality and relevancy of knowledge included within the MST knowledge infrastructure, extending to portal user interfaces, knowledge platforms, and knowledge repositories. This role also manages MST sites for an assigned area and may manage knowledge repositories. This includes oversight of ongoing knowledge updates, the design and development of new knowledge that aligns to business objectives, and strong coordination with multiple stakeholders.
Responsibilities:
Partners with Knowledge Leader to play an integral role in planning knowledge enhancements and content processes aligned to business needs for a given area
Partners with the Knowledge Leader to optimize knowledge content efficiencies for a given area. Makes recommendations for enhancements and process improvements. This includes the establishment of SLA's for producing and publishing Knowledge, managing additional support resources (direct and indirect), and ensuring overall quality of work.
Monitors incoming requests for editing current and creating and/or publishing new knowledge within the various tools. Must develop extensive knowledge of SAP content to achieve this responsibility.
Monitors/measures & analyzes knowledge currency, usage, etc., and alerts appropriate stakeholders when content management systems are not functioning as intended.
Supports Global Knowledge Lead in designing and implementing new knowledge management workflow processes.
Acts as a subject matter resource (SMR) on knowledge management issues and serves as a training resource for team members and stakeholders.
Analytical/Decision Making Responsibilities:
Acts as a project manager, managing multiple deliverables in a fast-paced and highly challenging environment.
Strong understanding of schedule planning and time management.
Adapts to constantly changing work requirements while assimilating new information, analyzing it, and effectively applying it.
Evaluates knowledge production demands, contributes to strategies for addressing those demands, then assists in coordinating resources to keep content updates steadily moving through the team's processes.
Provides reports to Learning and Knowledge Leads, regarding the success knowledge articles, including timely delivery, usage statistics, surveys and user/customer feedback.
Knowledge and Skills Requirements:
Technical skills requirements

Good understanding of knowledge management principles.
Strong project and time management ability.
Good verbal and written communication and facilitation skills.
Must be able to work independently, complete multiple tasks and meet deadlines in a fast-pace environment.
Strong leadership, analytical and research skills.
Proficiency in MS Office, SharePoint and Service Now
Basic SAP skills across a variety of modules preferred
Additional skills requirements

Flexibility to adjust to multiple demands, shifting priorities, ambiguity and rapid change
Customer service excellence focus and responsiveness
Ability to deal efficiently with escalations and difficult situations/people under pressure
Excellent interpersonal skills
Outstanding time management and organizational skills
Excellent presentation skills
Excellent written and verbal communication skills demonstrating a command of the English language
Experience:
At least 4-6 years of experience with at least three-year's experience in SAP Knowledge Documentation
Excellent copy writing and editing skills; strong attention to detail
Ability to develop and deliver creative, credible ideas for content
Proven ability to influence and build collaborative relationships with senior-level stakeholders
Demonstrated experience in supporting knowledge management for ERP systems, preferably SAP
Supervision Responsibilities
:
Receives general supervision. Work is reviewed at frequent intervals.
No direct supervisory responsibility.
Job Requirements:
Bachelor's degree in adult learning, technical writing or equivalent work experience
Other Requirements:
Demonstrate an inclusive and globally aware mindset
Ability and flexibility to work in a virtual environment across multiple time zones (shifts)
Ability and flexibility to adjust hours and schedule to demands of cyclical release schedules and system incidents
Minimal global travel may be required depending on business needs.