Senior Framework Developer .Net or Java
CREDIT SUISSE Poland
więcej
Senior Framework Developer .Net or Java
Wrocław, dolnośląskie

Specjalista

14.11.2017
Pracodawca ma prawo zakończyć rekrutację we wcześniejszym terminie.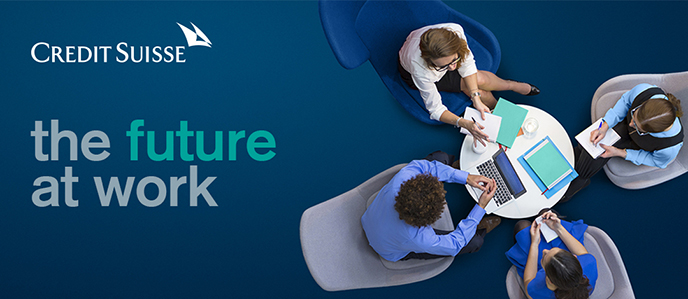 Credit Suisse is a leading global wealth manager with strong investment banking and asset management capabilities. Founded in 1856, Credit Suisse has expanded to be a global force employing over 45,000 people in 50 countries. With new leadership, a new strategy and a streamlined global organization, we are set for growth. We partner across businesses, divisions and regions to create innovative solutions to meet the needs of our clients—and to help our employees grow.

With a presence in Poland since 2007, Credit Suisse is committed to growing the businesses here. The Poland offices are of central importance to Credit Suisse's approach to leveraging global talent base.

We offer the chance to work for a renowned, international organization in a collaborative agile environment. We will invest in your development with ongoing opportunities for training, networking and international mobility. Join us and let's shape the future of Credit Suisse together.
Senior Framework Developer (.Net or Java) # 100996
Workplace: Wrocław
100996

Description
Solutions and Risk Technology (SRT) manages and develops Risk Technologies horizontally across Global Markets businesses. Within SRT the RDx group operates the core common risk technology components that support the Global Markets and provides on-demand risk aggregation, promote effective capital allocation, improve trading decision-making tools, and support management of risk oversight across GM.
The RDx Platform team owns and develops the core technologies which enable the front-to-back applications that are used across Global Markets for risk management and regulatory reporting. These technologies enable traders, product controllers and risk managers across the business to analyse and report on massive amounts of risk and P&L data. The heart of this platform is the Risk Data Fabric (RDF), which provides a consistent data access layer for trade, P&L and reference data across all GM business lines. On top of this we develop and support a graph-based calculation layer which enables on-demand risk and scenario calculations to both front office and risk management users.
Along with the data store and calculation layer the platform team also develops Risk Data Algebra (RDA) a suite of software which enables the aggregation and manipulation (slicing & dicing) of large volumes of data and the representation of that data into consistent GUIs and reports. All of this technology is underpinned by our Risk Definition Language (RDL) which is developed to describe all the data and calculations performed within the RDx platform.
The team is looking to grow in 2017 to underpin its position as the key enabler of Credit Suisse Global Markets business to meet current and future regulatory reporting requirements whilst providing the next generation calculation and analytic layer on which the firm's risk reporting can be based.
We are looking for a knowledgeable, flexible and creative developer to join the RDx Platform team and help us to evolve our platform to handle the broad challenges which arise from being core to the future of the Credit Suisse Global Markets business.
Open to discussing flexible/agile working.
Qualifications:
You have a mathematical / computational degree or similar (Engineering or Physics for example).

You have fluent written and spoken English\

You have the ability to engage and communicate with senior management across business and IT functions.

You are Dedicated and eager to be challenged including a demonstrable ability to take ownership of issues and follow through to resolution.

You are flexible and adaptable, being willing to move focus between components and projects easily.
Java
Essential skills:
Strong design and development skills on the Java platform, with particular emphasis on core APIs : java.concurrent.

Java.util.*, Java.nio*.

Deep understanding and experience in developing, profiling and maintaining multi-threaded/asynchronous applications.

JVM monitoring, profiling, performance tuning and debugging. Experience with using analysis tools such as JConsolem, JVisualVM, JProfiler or Java Mission Control.
Bonus skills:
Java 8 and Functional Design Paradigms. Including knowledge of streams and lambdas (e.g. packages: java.util.stream).

No-SQL databases (in particular sorted key-value stores such as Apache HBase, Apache Accumolo for instance). Apache Spark (or similar analysis tools).

Distributed File System and Map Reduce Paradigm.

Deep understanding of Linux / Windows Operating System fundamentals. From the perspective of application hosting and management.

Experience with Java Web based technologies and containers (Java EE Web). Knowledge of Apache Tomcat a bonus.
.Net
Essential skills:
Strong design and development skills in either F# or C#.

Multi-threaded and asynchronous server development.

Experience with memory and performance profilers.

Deep understanding of standard containers and algorithms.

Test Driven Development approach to software engineering and deployment.
Bonus skills:
Experience with C++ or Python.

Functional programming experience.

A deep understanding of the HTTP stack on windows, and its .NET implementation.

Experience with large codebases and msbuild.
For more information visit Technology Careers.
We offer
Private medical care
Life insurance
Pension plan
Charity days
Training and development
Internal Mobility
Other optional
Language training course
Mentoring
Family – nursery and kindergarten funding, gift vouchers for Christmas
Parking allowance
Health promotion: Multisport card, sporting events and groups within Credit Suisse (skiing trips, football team, running team, tennis training course etc.)
Employee discounts on various products and services (event tickets, consumer products, etc.)
Relocation package
Employee Referral Program
Flexible work schedule and working from home (home office)

If you apply for this role this means you agree with the following statement:
"Through my application for a role with Credit Suisse (Poland) sp. z.o.o. (the Company) I hereby authorize the Company to process my personal data for the purposes of job recruitment. Furthermore I declare that I am aware of the voluntary submission of data and I am informed about the right to access the data and the right to correct it, pursuant to the Personal Data Protection Act of 29 August 1997 (Journal of Laws [Dz.U] No. 133, item 883)". I authorize Company to process my personal data for future recruitment processes.
Furthermore, I authorize Credit Suisse Group AG and its' affiliates, Taleo (UK) Limited, cut-e AG Kleiner Burstah 12 and milch & zucker The Marketing & Software Company AG to process my personal data.
Credit Suisse and affiliates registration details.-
Credit Suisse (Poland) sp. z.o.o Registered office - 1 Icchoka Lejba Pereca street, 00 - 849 Warsaw
Credit Suisse Group AG Registered office - Paradeplatz 8, 8001 Zurich, Switzerland and its' affiliates
Taleo (UK) Limited Registered office - 78-586 Chiswick High Road, London W4 5RP, United Kingdom,
Cut-e AG Kleiner Burstah 12 Registered office - 20457 Hamburg, Germany and
Milch & Zucker The Marketing & Software Company AG Registered office - Küchlerstraße 1, 61231 Bad Nauheim"