Senior Project Manager
Objectivity Bespoke Software Specialists Sp. z o.o.
więcej
Senior Project Manager
Wrocław, dolnośląskie

pokaż mapę

Kierownik

16.05.2018
Pracodawca ma prawo zakończyć rekrutację we wcześniejszym terminie.

Senior Project Manager

Work Place: Wrocław

Do you want to work in a dynamic company where everyone is equal and your opinions are welcome, because you are treated as an expert in your field? We are an agile-oriented, value-driven team of nearly 600 professionals, who strive to deliver our clients excellent software. In every relation we build – especially between the colleagues, between us and clients, us and suppliers – we believe in win-win solutions.
Due to the dynamic growth of our office in Wroclaw we are now looking for a new colleague:

Our Approach:
Leading software development projects, you need to have knowledge of the software development lifecycle. The closer to programming – the better. Infrastructure, deployment or integration projects are ok in your experience – still, software development for external, international clients is our core and only activity, and thus we will look for it in your experience.
Orientation in Scrum methodology is vital – as we do Scrum ourselves.
We cooperate mainly with UK and Irish Clients - fluent knowledge of English is a must for a Project Manager in Objectivity.
Rather than delivering systems we build relationships – our clients remain with us for years – so we hope to employ Project Managers with very much people – oriented mind-set and strong interpersonal skills.


How you will work:
Project Managers lead only one team (or two teams in two streams) and work on delivery for one client only.
Your people work only with you, we do not take resources from your team without consulting it with you and your agreement.
Objectivity employs mostly senior, long-experienced engineers consequently – you have access to most advanced technologies in software development.
You are not burdened with finances and financial negotiations – we have Account Managers to take care about it. As a PM – you ensure estimation and software delivery within the established budget.
For routine, administrative tasks, charts, timesheets and reporting we have a role of Project Support to take away from you all that is not strategic for the project you run.
All team members contact the Client, thus you are not the only contact interface and consequently, all your people have advanced client facing skills.


Your role:
Participation in defining the scope of the project.
Planning the schedule of project realization and supporting the team in task estimation.
Coordinating the accomplishment of tasks.
Ensuring effective communication within your project team.
Managing the project scope, budget and risks.
Ensuring efficient allocation of resources.
Communication with customers.


You are The One, if you have:
Minimum 5 years of professional experience.
Minimum 3 years of project management experience.
Demonstrated know-how in providing turnkey systems (bespoke development) or integration solutions.
Working knowledge of software development process.
Familiarity with at least one project management methodology (Agile, PRINCE2, PMI); Prince2 Practitioner or PMP certificates are welcome.
Proven experience in team management in international structures.
Independence in carrying out the assigned tasks.
Excellent work organisation.
Highly developed communication skills.
Knack for establishing business relationships.
Quality, project, and teamwork orientation.
Negotiating skills.
Very good knowledge of spoken and written English.


Why it is worth joining us:
We offer you an inspiring working environment – you will cooperate with experts in various fields
Your voice will be heard – since our philosophy is based on good practices and open communication
Our organizational culture is based on knowledge-sharing and friendly help – we do our best to give every support you need to excel at what you do
We will try to make you feel comfortable with us by offering among others: English lessons within working hours, medical care for you and your family or partner, financial back-up for the future (e.g. investment fund), Multisport card
You will get an attractive salary, that lets you focus on your job.


To find out more

Check out our Guilds and Tribes structure which helps us to avoid being a corporation.
Moving to Wroclaw? Check out our relocation package.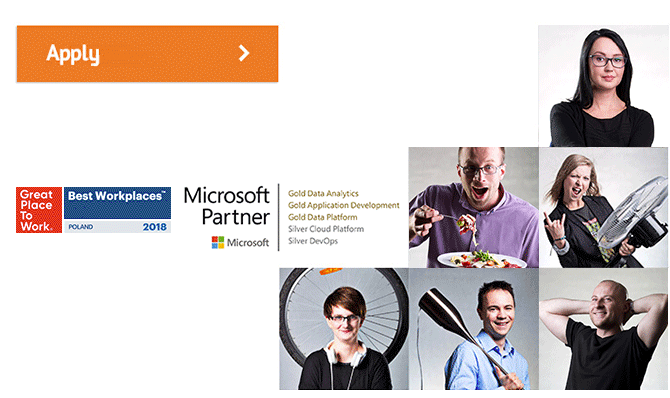 Informujemy, że aplikując wyrażasz jednocześnie zgodę na przetwarzanie swoich danych osobowych zawartych w ofercie pracy na potrzeby obecnego procesu rekrutacji, jak i procesów rekrutacji zorganizowanych w przyszłości przez okres 5 lat zgodnie z ustawą z dnia 29 sierpnia 1997 r. o ochronie danych osobowych (Dz.U.1997, nr 133, poz. 883 z późniejszymi zmianami). Jednocześnie przyjmujesz do wiadomości, że administratorem Twoich danych osobowych staje się Objectivity Bespoke Software Specialists sp. z o.o. z siedzibą we Wrocławiu przy ul. Strzegomskiej 142a oraz że masz prawo dostępu do treści swoich danych, do ich poprawiania, a także pisemnej prośby, o ich usunięcie, jak i pisemnego potwierdzenia, że tak się stało.