Senior Project Manager
Divante Sp. z o.o.
więcej
Senior Project Manager
Wrocław, dolnośląskie

pokaż mapę

Kierownik

17.05.2018
Pracodawca ma prawo zakończyć rekrutację we wcześniejszym terminie.

Meet Divante

We are one of the major e-business software houses in Europe. As a leader in introducing new technologies supporting the online growth of our clients' businesses, we work for top brands, such as ING, Osram, T-mobile, Intersport, TUI, Norstedts, Odlo, and Wurth.
We have been awarded with the Forbes Diamond and listed among the Deloitte Technology Fast 500 for the fastest-growing companies.
We work with Magento, Pimcore (as a Strategic Partner) and Oro, as well as many custom-made projects. We also develop our own open-source products, such as
OpenLoyalty
- a unique loyalty platform or
Vue Storefront
- universal storefront for e-commerce in PWA, both with growing popularity among international clients.
Divante is a place where you can work on the most ambitious plans and innovative IT projects for dynamically developing clients representing many industries and markets from all over the world. In order to strengthen our international presence, we are looking for a motivated, experienced and ambitious person for the position of: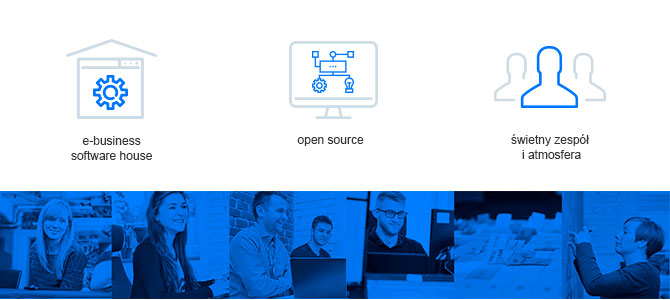 Senior Project Manager

Miejsce pracy: Wrocław
Nr referencyjny: PRJ-SPM-2018/05

Duties:
Defining the project scope
Estimating the time needed for completing the tasks
Planning the project schedule
Coordinating the tasks
Human resources allocation
Risk and budget management
Quality and deadline control of the projects
Facilitating effective communication within the team
Building long-term relationship with present clients, as well as setting up contacts with the new ones
Last year, we changed our structure, inspired by Spotify, among others. We divided into ca. 20-people teams (tribes) that are not dispersed after completing a project, specializing usually in a chosen technology, occupying one room, working together on the best practices and sharing knowledge, leaded by a Tribe Master.
So if you'd also like to grow your leadership skills and be able to run your own tribe in the future, as a Tribe Master you would be also responsible for:
Managing a team of professionals (software developers, software testers, business analysts), taking care of their growth, feedbacks, promotions and contracts
Creating a climate for cooperation and development within your tribe
Coordinating tribe meetings
Active cooperation with other Tribe Masters
Effective human resources allocation
Supporting the company's strategic growth - diagnosing the areas in need of development and active participation in introducing the necessary changes
This offer is for you, if you have:
Experience (at least 4 years) in running IT projects, including project implementations
from analysis up to release phase (preferably e-commerce)
Practical knowledge of the management methodologies
Experience in using Agile methodologies
Ability to plan and organize work
Ease at establishing business connections
Communication and negotiation skills
Creativity, independence, responsibility and initiative
Fluent English (at least B2)
Fluent German would be a big plus
We offer:
An opportunity to learn new technologies and choose your own career path, including an
opportunity to become a Tribe Master
Being part of projects for really big clients
Time for personal growth, internal workshops, external training
If you have something to share, speak English and like to talk in public, we would be glad to
send you as a speaker to some conference ;)
Remote work (standard is no more than 1 in 5 days)
Flexible working hours
Of course, we have Multisport, healthcare, life insurance and English lessons
Modern office with some parking space
Lots of freshly ground coffee and fruit
Team dinners


Sounds interesting?
Please, send us your CV by the apply form and write why you'd like to work for us.
Please include the following clause in the documents:

"I hereby agree, in accordance with the Polish act of 29th of August 1997 on the personal data protection (consolidated text: O.J. from 2016 pos. 922 ), to the processing of my personal data to the extent provided in the application form and attached application documentation, for the purpose of recruitment, by the administrator of DIVANTE Sp. z o. o., a company incorporated under the laws of Poland with its registered office in Wroclaw, at ul. Dmowskiego 17, postal code: 50-203, EU VAT/Tax Identification [NIP] no. PL8951930748, registered in the National Court Register [KRS] under KRS number 313348, by the District Court Wroclaw-Fabryczna in Wroclaw, VI Commercial Division of the National Court Register, with share capital of PLN 58,000. I hereby declare I was informed the personal data will not be provided to the recipients in the meaning determined in the art. 7.6 of the Polish act on the personal data protection, I have the right to access to the content of my personal data and its rectification, and that providing personal data is voluntary, however necessary for correct carrying out present and/or future recruitment processes."

We'll contact the best candidates.