Senior Software Architect
infinIT Codelab
więcej
Senior Software Architect
Szczecin, zachodniopomorskie

pokaż mapę

Specjalista

22.08.2018
Pracodawca ma prawo zakończyć rekrutację we wcześniejszym terminie.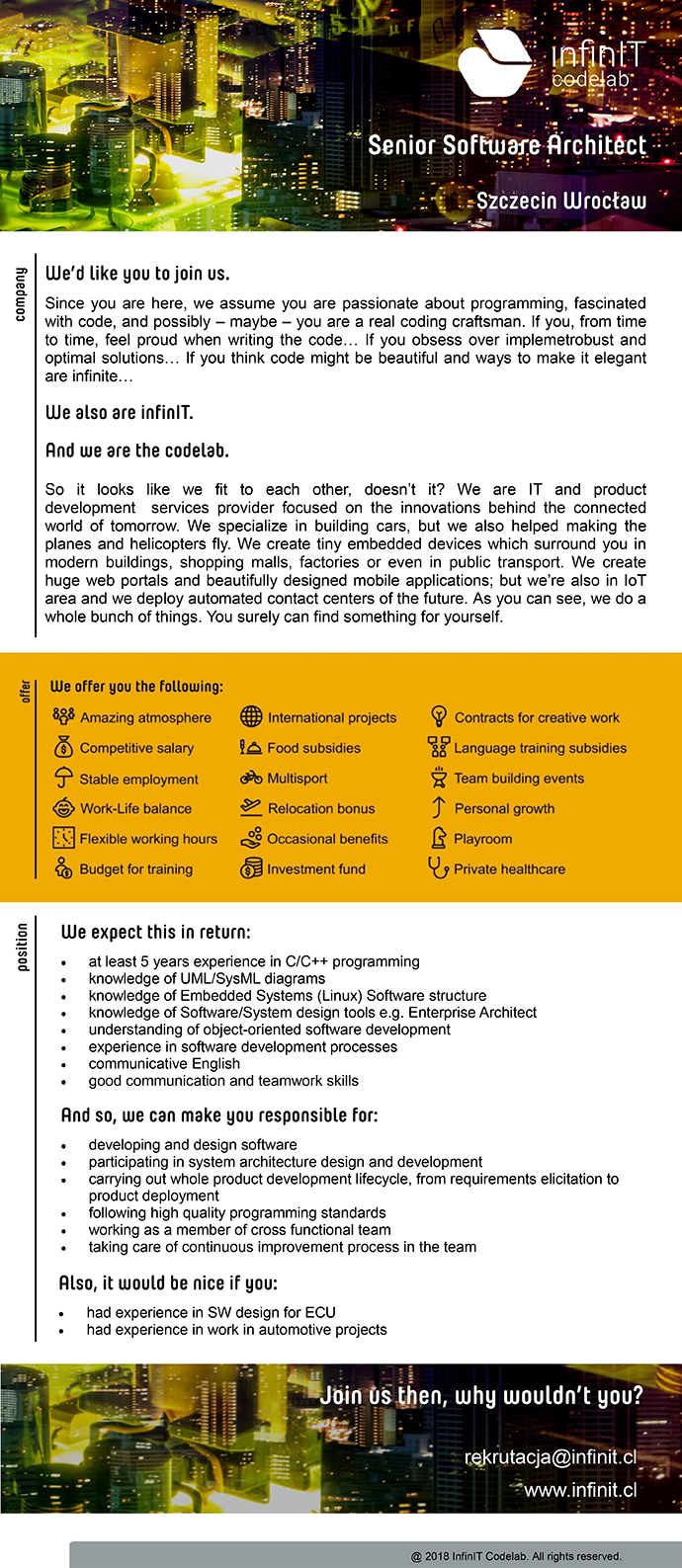 Senior Software Architect
Miejsce pracy: Szczecin

Senior Software Architect
Szczecin/Wrocław
We'd like you to join us.
Since you are here, we assume you are passionate about programming, fascinated with code, and possibly – maybe – you are a real coding craftsman. If you, from time to time, feel proud when writing the code… If you obsess over implement robust and optimal solutions… If you think code might be beautiful and ways to make it elegant are infinite…
We also are infinIT.
And we are the codelab.
So it looks like we fit to each other, doesn't it? We are IT and product
development services provider focused on the innovations behind the connected world of tomorrow. We specialize in building cars, but we also helped making the
planes and helicopters fly. We create tiny embedded devices which surround you in modern buildings, shopping malls, factories or even in public transport. We create
huge web portals and beautifully designed mobile applications; but we're also in IoT area and we deploy automated contact centers of the future. As you can see, we do a whole bunch of things. You surely can find something for yourself.
We offer you the following:
Private healthcare
Playroom
Personal growth
Team building events
Language training subsidies
Contracts for creative work
Investment fund
Occasional benefits
Relocation bonus
Multisport
Food subsidies
International projects
Budget for training
Flexible working hours
Work-Life balance
Stable employment
Competitive salary
Amazing atmosphere
We expect this in return:
at least 5 of experience in C/C++ programming
knowledge of UML/SysML diagrams
knowledge of Embedded Systems (Linux) Software structure
knowledge of Software/System design tools e.g. Enterprise Architect
understanding of object-oriented software development
experience in software development processes
communicative English
good communication and teamwork skills
And so, we can make you responsible of:
developing and design software
participating in system architecture design and development
carrying out whole product development lifecycle, from requirements elicitation to product deployment
following high quality programming standards
working as a member of cross functional team
taking care of continuous improvement process in the team
And also it would be nice if you:
had experience in SW design for ECU
had experience in work in automotive projects
Join us then, why wouldn't you?
www.infinit.cl
Please add to your documents:
I hereby consent to InfinIT Codelab using my personal data sent in the recruitment process and I understand and agree that InfinIT Codelab, with its registered office in Szczecin, ul. Malczewskiego 26, is the personal data administrator. I agree that these data will be processed for the current and future needs of the recruitment purposes and stored for three years in the internal system of InfinIT Codelab Sp. z o.o. and that the provided data will not be shared with other recipients or transferred to a third country.
I understand that at any time I may withdraw my consent to the processing of personal data, demand access to their content and
rectification, deletion, limited processing, transfer and objection.
I understand that I also have the right to bring a complaint to the supervisory body if I consider that the processing of personal data
infringes the provisions of the General Data Protection Regulation of April 27, 2016.
I understand that the transfer of data is voluntary, and it will not be processed in automatically, including in the form of profiling.*
* Information provided in accordance with the requirements of article 13 (1 and 2) of the general regulation on the protection of personal data of April 27, 2016.