Team Manager
Capgemini Polska
więcej
Team Manager
Opole, opolskie

Kierownik

22.01.2018
Pracodawca ma prawo zakończyć rekrutację we wcześniejszym terminie.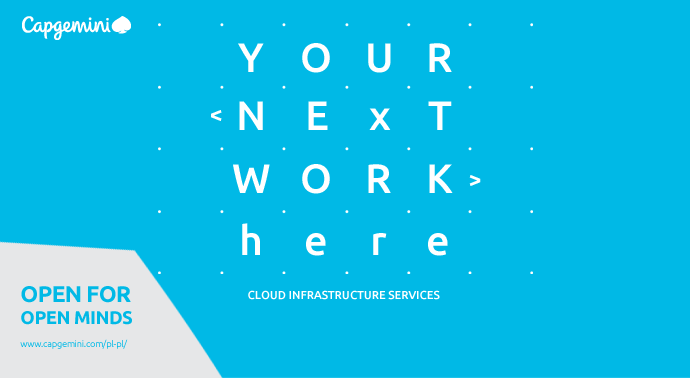 Capgemini is one of the world's foremost providers of consulting, technology and outsourcing services.
Cloud Infrastructure Services is one of the biggest outsourcing service providers in Poland. Since the establishment of our first service center in Krakow in 2004, it has achieved great success and grown rapidly. In 2006, we opened a second center in Katowice and in 2012 a third center in Opole. Today, our team of 2,000 professionals delivers IT outsourcing services to 40 clients in 20 languages.
Team Manager
Location: Opole
Pracuj/Team/Manager/OP

Main accountabilities

Service Operations
Proactively managing team performance, aiming to deliver SLA targets and/or service aspirations, recommending and implementing action plans as appropriate to address any shortfalls

Providing a first point of escalation for the team in respect of service/delivery issues

Assisting the next level Managers in the planning and implementation of changes to the service, including increase and/or decrease in workload

Early identification and escalation of service/delivery issues

Monitoring the quality of the service and influencing continuous improvement, ensuring that positive actions are used to address any shortfalls in the service and/or demonstrate added value to the service

Service performance management

Customer/Supplier Relationship

Ensuring customer satisfaction within their scope of responsibilities

Seeking for external upsell opportunities within his environment

Building and maintaining strong working relationships with key service contacts

Service Excellence, CSIP actions management

Communicating lessons learnt with peers, seeking to improve and optimize the service

Day to day management including visual management sessions with the team

Ensuring the good use of all available processes, systems and tools in the delivery of the service by the team

Re-engineering processes to make them leaner and more efficient
Staff Management and Motivation
Ensuring that all HR, quality etc. processes are effectively executed

Performing skill analysis and ensuring skill gaps are filled, managing skills matrix for the team

Alerting the next level Manager of any resource/ staffing issues

Contributing to data delivery for headcount requirement in light of forecasted volume and service changes

Responsible for succession planning, shadowing and identifying high-potentials

Effectively communicating Client, Capgemini and Service Centre Management matters relevant for the team

Being aware of and actively helping staff to develop in line with their career aspirations within Capgemini

Effectively managing and developing staff

Responsible for setting up the performance and quality targets, controlling achievements based on Quality team feedbacks

Promoting the best performers to develop further in the organization

Managing team budget for administrative costs
Candidate's profile
Ability to work with minimum of supervision as well as perform under pressure and meet tight deadlines

Strong team player skills with the ability to build relationships with both colleagues and external clients

Enthusiastic, hard working, confident with a "can do" attitude

Understanding of team dynamics

The ability to use initiative, whilst working on their own with minimum supervision is essential

Administration skills

Confidence in performed tasks
Requirements
Professional experience at a senior level within Customer Service Centre or wider business environment

Excellent interpersonal and communication skills. Being able to communicate across all levels within engagement

Very good understanding of MS Windows and MS applications environment

Excellent verbal and written English

German would be an advantage
What we offer
You will work in multinational, stable company for c.a. 100 Blue Chip Clients- known, global brands, supported by 6000 professionals in 30 languages
You will gain space to fulfill your ambitions and develop your career, opportunity to take part in transition projects. We operate according to Lean and Kaizen
You will choose your career path (experts or managers) – you will work among professionals (over 900). We will support you to gain knowledge (20 000 online trainings and in class) and get certified (e.g. ITIL, Vmware, Citrix, Oracle Database). You will have the opportunity to take part in coaching programs and develop your knowledge in experts communities
You will work in line with high, international work standards and you will have an opportunity to engage in CSR initiatives
You will be appreciated for your results and professionalism – based on clear rules of promotion. Our company applies a wide choice of perks (free private medical care for you and your family, additional life insurance). We help to keep right proportions between your work and private life (Business Parent Program)
As a disabled person you will get professional support. We are open to provide assistive technologies for people with diverse disabilities. We care about inclusion and equal rights approach. We conduct disability awareness trainings. Join our Win with Capgemini Program for people with disabilities

Informujemy, że administratorem danych osobowych podanych w zgłoszeniach rekrutacyjnych jest Capgemini Polska Sp. z o.o. z siedzibą w Warszawie przy Al. Jerozolimskich 96. Pana/Pani dane osobowe będą przetwarzane zgodnie z ustawą z dnia 29 sierpnia 1997r. o ochronie danych osobowych (t.j. Dz. U. 2002, Nr 101, poz. 926 ze zm.) na potrzeby realizacji procesów rekrutacji prowadzonych obecnie i w przyszłości. Podanie danych jest dobrowolne. Każda osoba ma prawo dostępu do treści swoich danych ich poprawiania.
Prosimy o dopisanie następującej klauzulii: "Wyrażam zgodę na przetwarzanie przez Capgemini Polska Sp. z o.o. danych osobowych zawartych w mojej ofercie pracy na potrzeby procesów rekrutacji prowadzonych obecnie i w przyszłości zgodnie z przepisami ustawy z dnia 29 sierpnia 1997r. o ochronie danych osobowych (Dz. U. 2002, Nr 101, poz. 926 ze zm.) ".Wszystkim zainteresowanym zapewniamy dyskrecję.
Zastrzegamy sobie prawo do odpowiedzi tylko na wybrane aplikacje. Proces rekrutacji prowadzony jest zgodnie z zasadami równego traktowania w zatrudnieniu, Kodeks Pracy, Rozdział IIa, art. 183a – 183e."