VMware Engineer
Capgemini Polska
więcej
VMware Engineer
Katowice, śląskie

Specjalista

2015-05-06
Pracodawca ma prawo zakończyć rekrutację we wcześniejszym terminie.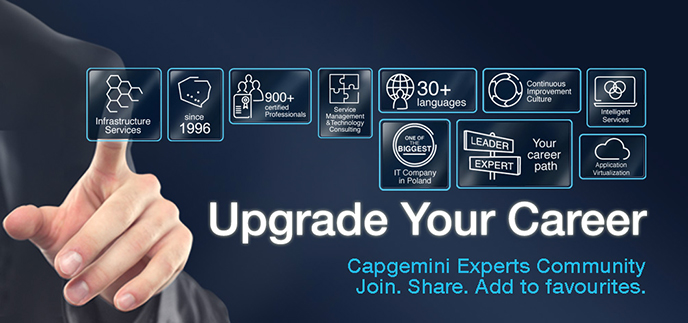 Capgemini Infrastructure Services is one of the biggest outsourcing service providers in Poland. IS has achieved great success and grown rapidly since the establishment of our first service center in Krakow in 2004. In 2006, we opened a second center in Katowice and in 2012 a third center in Opole. Today, our team of 2,000 professionals delivers IT outsourcing services to 40 clients in 20 languages.
VMware Engineer
Miejsce pracy: Katowice
Pracuj/VME/KTW

Position purpose
Virtualization Team was founded in 2008 with four engineers at the beginning, till today team grew to twenty engineers. All of them passed VCP exam and few passed VCAP-DCD/DCA exam. Curently team is managing virtual infrastructure in multiclient mode consist around 300 ESXi hosts and 4000 Virtual Machines. Additionally NetApp storage management is in team's scope.

VMware Engineer will be able to expand his/her knowledge in Virtualization area through access to multiclient environment and cooperation with high class specialists within our team. This position is dedicated for people strongly focused on technical skills development and motivated to achieve defined objectives.
Job description
Day-to-day servers management and support
Virtual infrastructure monitoring
Virtual Machine configuration and management
VMware infrastructure - reporting and problem determination
Hardware problem determination
Incident/Problem/Change Management process according to ITIL rules
Main accountabilities
Virtualization technology: VMware, Citrix
Hardware support: HP, Dell, NetApp
Incident/Problem/Change Management
Candidate's profile
Analytical and methodical approach to problem solving
Self driven and able to work within a team

Be able to work under pressure and meet tight deadlines
Requirements
Good English skills
Technical knowledge of: VMware, Citrix, Windows
Knowledge about: HP blades, UCS, DELL, NetApp is an advantage
Excellent troubleshooting, problem-solving, and analytical skills
Good communication and interpersonal skills
What do we offer?
You will work in multinational, stable company for c.a. 100 Blue Chip Clients - known, global brands, supported by 6000 professionals in 30 languages
You will gain space to fulfill your ambitions and develop your career, opportunity to take part in transition projects. We operate according to Lean and Kaizen philosophy.
You will choose your career path (experts or managers) – you will work among professionals (over 900). We will support you to gain knowledge (20 000 online trainings and in class) and get certified (e.g. ITIL, Vmware, Citrix, Oracle Database). You will have the opportunity to take part in coaching programs and develop your knowledge in experts communities.
You will work in line with high, international work standards and you will have an opportunity to engage in CSR initiatives.
You will be appreciated for your results and professionalism – based on clear rules of promotion. Our company applies a wide choice of perks (free private medical care for you and your family, additional life insurance). We help to keep right proportions between your work and private life (Business Parent Program)
Interested candidates are invited to apply online or send CV to [email protected]
Please include reference number in the subject of your message.
Please be advised that Capgemini Poland Sp. z o.o. located in Warsaw, Al. Jerozolimskie 96, is the controller of personal data provided by you in the recruitment applications. Your personal data will be processed in accordance with the Personal Data Protection Act of 29 August 1997 (Journal of Laws2002, No. 101, item. 926 with further amendments) for the purpose of existing and future recruitment processes. Please be advised that in scope of recruitment process your personal data will be processed by the controller and sub-processors located outside European Economic Area including India's entity. Data processing might include voice recording. Data submission is voluntary. Every person has the right to access their data in order to correct it or delete it"
Please include following statement in your application:
"I hereby authorize Capgemini Poland Sp. z o.o. to process my personal data included in my job application for existing and future recruitment processes (in accordance with the Personal Data Protection August 1997, Journal of Laws 2002, No. 101, item. 926 with further amendments).I also authorize Capgemini Poland Sp z o.o. to sub-process my personal data outside European Economic Area including India's entity, which may also include Capgemini's clients within and outside of EEA."
We protect your privacy. We kindly inform you that we contact only chosen candidates.The recruitment process is conducted in accordance with the principles of equal treatment in employment, Labor Code, Chapter IIa, Art. 183a– 183e.
Employment Agencies Register – 9595